June 11, 2015
Nicole Freeling
,
UC Newsroom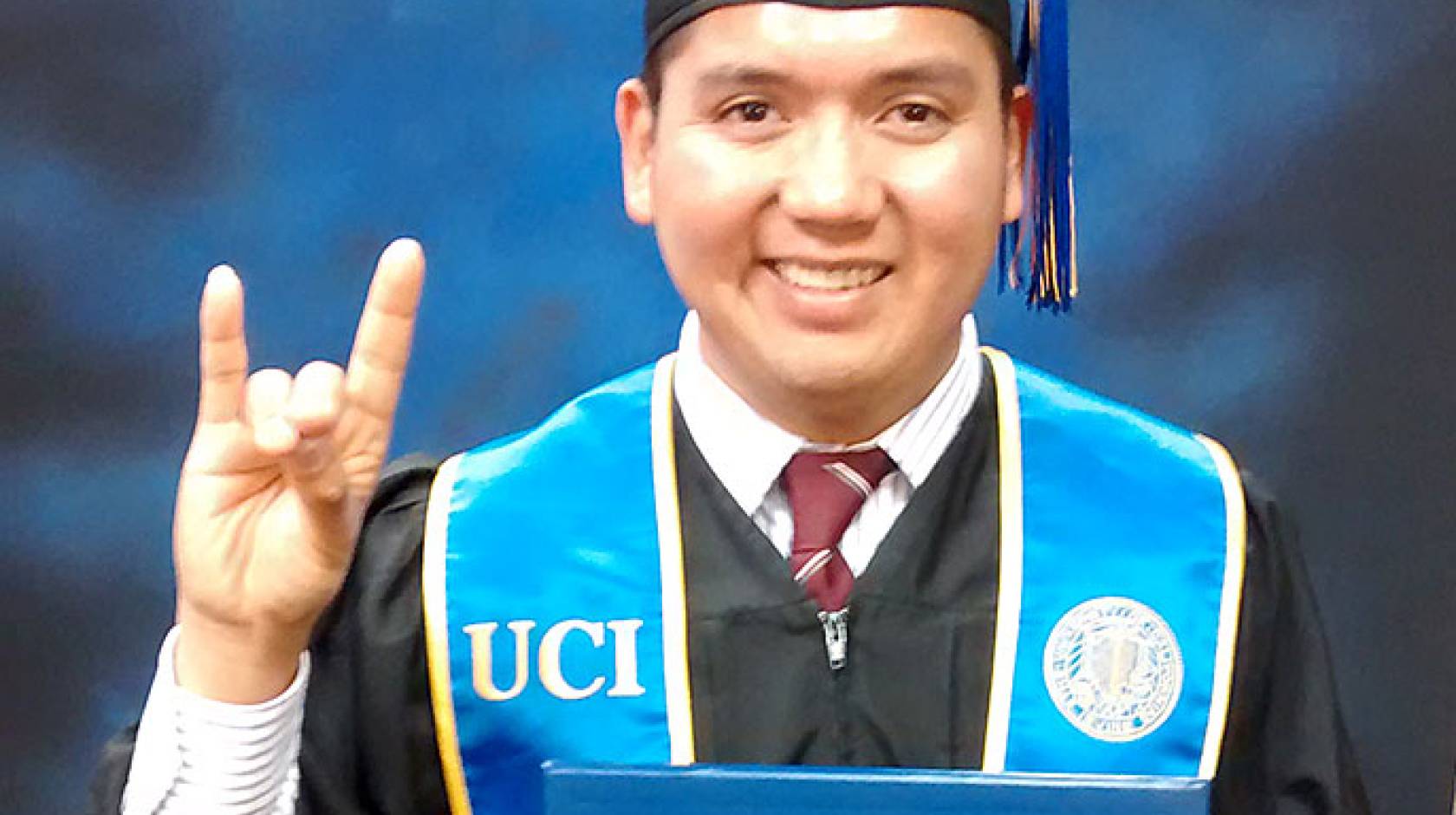 Credit: Courtesy Rene Amel Peralta
By the time he was 6, Rene Amel Peralta was already working full time in construction and odds jobs in Mexico, just trying to survive. By 13, he and his sister had been abandoned by their only parent and had made the treacherous journey across the border.
But without immigration papers or an education, poverty followed.
On Saturday (June 13), Peralta and his sister both will defy the long odds that were stacked against them, and be awarded college diplomas.
Their goal now: Help others from similar circumstances.
Peralta will receive a bachelor's of science in chemistry from UC Irvine, graduating with high marks, while his sister will be awarded a degree from Cal State Los Angeles.
"We were two kids, born into poverty, born into a broken home. We were born to fail. But we risked everything to change our lives," he said. "I know there are other kids who were like me, and are waiting for someone to help them."
Amel Peralta becomes emotional as he thinks about reaching a milestone that attests to a future so much brighter than his past.
"Uncertainty is part of the undocumented experience," he said. "But my sister and I have come this far. I know, wherever we want to be, we can get there."
In search of a better life
Born in Chicoloapan de Juarez, near Mexico City, Peralta and his sister Gabriela, who is two years his senior, began working at the age they should have been starting elementary school. As a child, Amel Peralta's single ambition was simply to escape the poverty and violence he faced on an almost daily basis.
When the siblings fled Mexico, traveling across the border as unaccompanied minors, their aim was to unite with distant family in New York and figure things out from there.
"If you had asked me that day I was crossing the border when I was 13, could I see myself graduating from college, I would have said: never," Amel Peralta said. "Not in my wildest dreams."
After enduring the arduous journey north, however, he and his sister arrived to circumstances that bore little difference to the life of hardship they'd left behind.
Without papers, schooling or the ability to speak English, they worked full time at whatever jobs they could find in the underground economy — dry cleaning, construction, food service, domestic help — working for below minimum wage and often in poor conditions.
As undocumented immigrants and underage workers, they felt they had little legal recourse.
"It felt like there was no hope for us," Peralta said.
At 17, Amel Peralta made a last ditch effort to improve his situation, contacting an acquaintance in California who had offered to help. "It was a big risk," he said. "But we said to ourselves: This is enough. We have to do something to change our lives."
This time, the risk paid off. Their California connection — a friend of the family named Brian Roge Fonteyn — took them in, contributing money so they could attend classes at Mt. San Antonio community college in Walnut.
For Amel Peralta, the classes were his first experience with formal schooling, and he enrolled in the most remedial courses he could find. He poured his energy and determination into his schoolwork and, within six years, had excellent grades and two associate's degrees in math and science.
It took two more years for Peralta to complete the transfer process and be accepted to several UC campuses. But there was an additional hurdle: Because he had not gone to high school, Peralta did not qualify for the assistance available to undocumented students through AB 540, a law which extends in-state tuition and eligibility for state financial aid to students who have completed three years of, and graduated from, a California high school, regardless of immigration status.
Finding a home at UC Irvine
UC Irvine undergraduate dean Sharon Salinger took up Peralta's cause, waiving his fees until he was able to qualify for AB 540 status under an exception.
As a low-income student, Amel Peralta's tuition was fully covered under UC's Blue and Gold Opportunity Plan. Scholarships helped cover books and other expenses. To save money, Amel Peralta lived at home, commuting as much as two to three hours to get to class. He worked as a private tutor, helping other undergrads with math and science.
The chemistry major had been attracted to UC Irvine because of the opportunity to do research. As part of his undergraduate work, he participated in an NSF-funded summer research fellowship, looking at the effects of prairie restoration at a microbial level.
He works as a peer mentor at the campus student outreach and retention center, and co-chairs DREAMS UCI, an organization to support undocumented students.
"Here at UCI, I've grown so much," said Peralta, now 28. "It has been just an incredible experience for me."
A double celebration
Amel Peralta's celebration this weekend is made doubly joyful by the fact that his sister will receive her undergraduate degree on the very same day.
From their lives as orphans in Mexico to their journey to the U.S. and their experience as undocumented workers and students, the siblings have stuck together. It is part, he said, of what got him through. Now the two hope to work together to start a nonprofit to serve immigrant women and children.
Amel Peralta, who qualifies for temporary relief from deportation under the Deferred Action for Childhood Arrivals, has other ambitions. He plans to apply to medical school, with hopes of becoming a doctor and doing humanitarian work in the U.S. or abroad.
"My sister and I made it," he said. "We see it as our duty to make sure others make it."