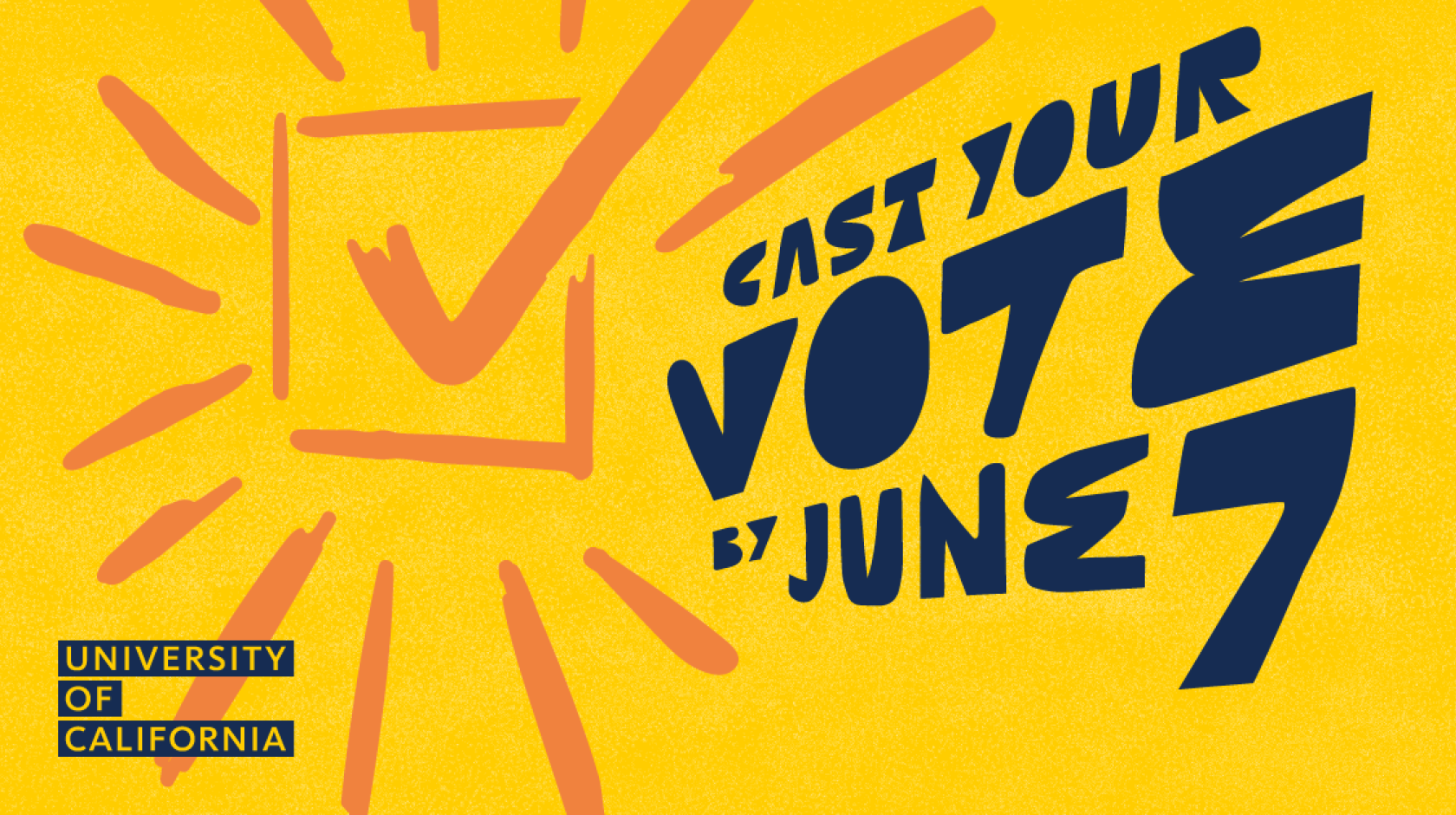 Credit: University of California
Final exams loom, the school year is drawing to a close, and commencement celebrations and summer beckon. But UC student leaders are urging classmates not to overlook another important event that's fast approaching: the California primary on June 7.
The election has the potential to have a big impact, says UC Santa Barbara undergraduate Alex Niles, who serves as government relations chair for the UC Student Association.
Along with races for U.S. Senate, House and governor, voters will be deciding on races for local offices such as sheriff, city manager, county supervisor and more.
—
Find your polling place, nearest ballot drop box, early voting locations and more at the UC Votes website.
—
"It is these local races that probably have the most day-to-day impact on people's lives," Niles said. "Who we vote for affects what services we get, what our zoning laws are, whether we have good sidewalks and street lighting, what is done with the local taxes we pay."
Local races are often decided by a handful of voters, so your ballot matters a lot. And if students start voting in large numbers, local officials will pay attention to their views.
"Students are short-term residents, but the student population is a long-term population with stable needs," Niles said. "By showing up to vote and representing the interests of students, you're holding it down for the generations of students that come after you."
And unlike some states that have made it harder to vote, California is making it easier than ever to cast your ballot.
Here are some important things to know.
You can vote for any candidate regardless of your party affiliation
California has an open primary, which means that voters from any party can vote for any candidate.
The top two vote-getters compete in November
California has a unique system known as a top-two primary: the two candidates for each office who get the most votes — even if they are from the same party — proceed to the general election.
"Who shows up to vote in June affects not only which candidates, but which parties are represented on the ballot in the general election," Niles said.
You can vote by mail or in person. You can even register and vote on Election Day. Basically, California has given eligible voters the flexibility to make voting work for their schedule. Here are all the ways to cast a ballot:
You can complete your ballot at home
Every registered Californian receives a mail-in ballot that they can complete and return as soon as they receive it. The deadline is June 7. Just drop it in the mail (no postage required), put it in an official ballot drop box, or bring it to any polling place on June 7.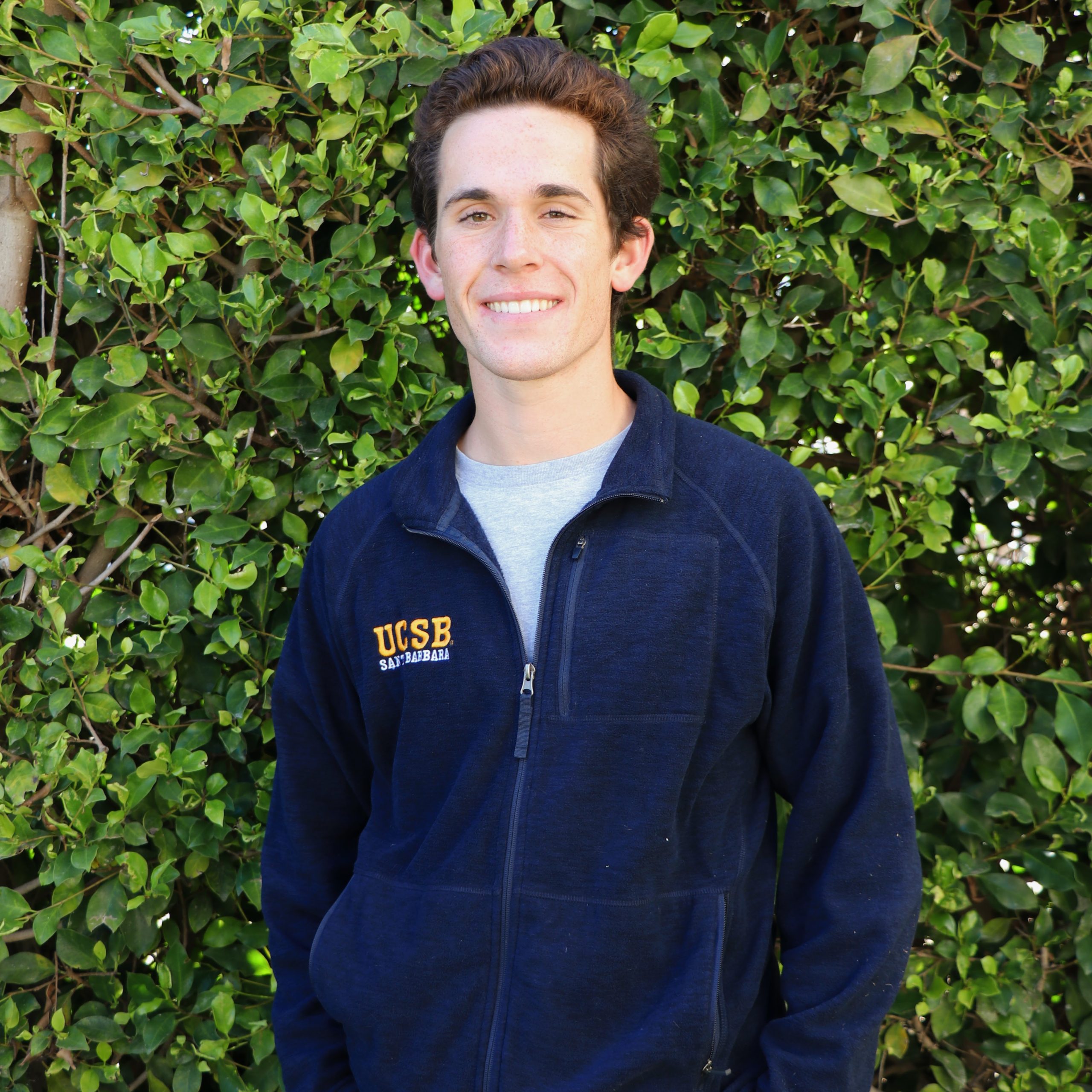 UC Santa Barbara
You can vote in person, including on weekends — starting May 28
Many California counties — including several where UC campuses are located — allow voting in select locations starting May 28, including Saturdays and Sundays.
Or you can vote the old-fashioned way, at the polls, on June 7
For those who prefer the time-honored tradition of standing in a voting booth to fill out their ballot, the polls will be open on Election Day from 7 a.m. to 8 p.m.. As a bonus, most UC campuses have polling sites right on campus.
Forgot to register? You can still vote!
Simply show up at a designated polling site on Election Day and fill out a same-day voter registration form. You'll be able to cast a provisional ballot. It will count the same as any other once officials have confirmed your eligibility to vote.
Not eligible to vote? There are lots of other ways to take part!
If you aren't eligible to vote, you can still take an active part in the democratic process by helping your classmates and your community turn out. Contact your local student government organization or office of student life to learn about voter outreach efforts on your campus.
Another way to participate: Help friends and family register to vote. You can also consider being a poll worker: Especially during primary elections, officials often struggle to find volunteers. (And it pays!)
"Anyone can be a part of creating that culture of civic engagement just by following what's going on and talking to people about it," Niles said.
"Students are some of the most engaged and organized members of the community when it comes to the issues that affect our lives. Bringing that knowledge home to friends and family is a great way to have more impact."