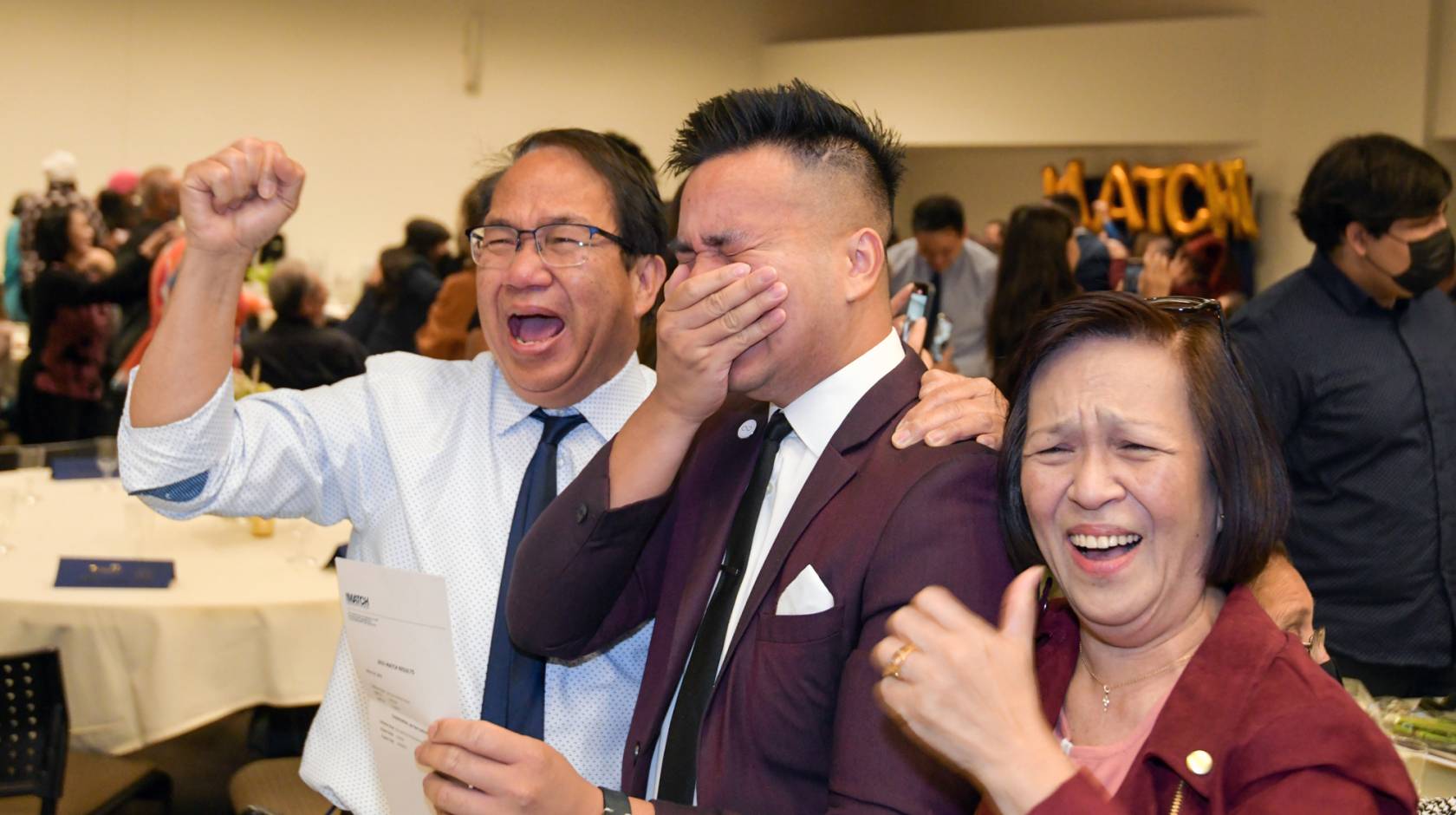 Credit: Carrie Rosema/UC Riverside School of Medicine
For students who are graduating from medical school this year, Friday, March 17, at 9 a.m. looms as a moment of profound anxiety and excitement.
Known as Match Day — sometimes jokingly referred to as the other March Madness — it's the moment when graduating medical students across the nation discover where they will serve their residencies, a period of hands-on training in their chosen field of medicine that can last anywhere from three to seven years.
It's one of the biggest milestones on the long and challenging journey to becoming a licensed physician. Friends, families and partners are often in attendance to cheer on their loved one as they discover what the future has in store.
Amazingly enough, the match decision itself comes from a computer algorithm.
Students submit a ranked list of their preferred residency programs to the National Resident Matching Program, which, using a Nobel-Prize winning algorithm, makes the assignments based on a variety of factors. The most heavily weighted of those is student preference itself.
"It's a scary process, throwing all your everything into a computer algorithm and hoping the computer makes the best match for you," says UC San Diego medical student Theresa Asuquo, whose family will be at her side when she finds out where she will go to train for her specialty in internal medicine and pediatrics. "It's nerve-wracking but I'm also so excited."
At the University of California, more than 700 students from across six medical schools will be participating in Match Day this year. If history is any guide, the vast majority of these students will stay in California — and UC's teaching hospitals will be a major destination.
"It's crazy to think that I've worked my entire life for this moment," said UC Irvine medical student Alonso Rodriguez. "Wherever I get in is where I belong. There are a lot of mixed emotions — happy, nervous, excited. But it's all positive."
Janae Chatmon, who expects to specialize in physical medicine and rehabilitation, is similarly excited and filled with hope for the big moment.
"I wrote a letter to my grandmother for her birthday, and I said to her that when I match, and get my M.D., it's not going to be my M.D., it's going to be our M.D.," Chatmon said. "My family has been so supportive of me, and they're a huge reason why I have been able to get through medical school, and through all the challenges and hardships that I've experienced."