June 9, 2016
Pam Kan-Rice
,
UC ANR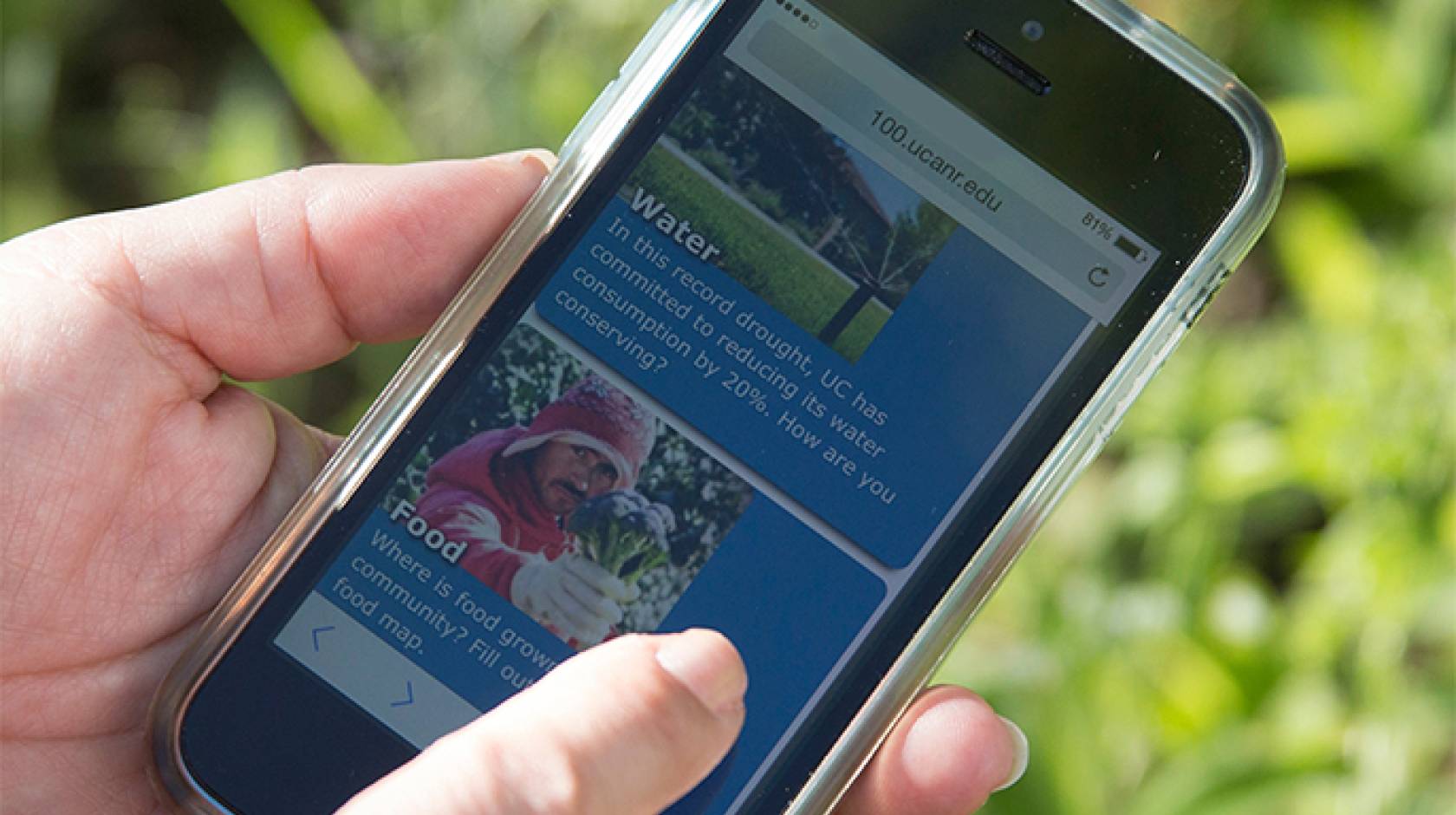 Do you have an idea for a mobile app that would simplify a task for growers, ranchers or anyone who works in agriculture? Meet others who can turn your idea into something functional.
The California Apps for Ag, the fourth in a series, will be held July 15-17. The competitive hackathon to solve real problems in agriculture and food is being hosted by UC's Division of Agriculture and Natural Resources and the California State Fair.
Software developers, designers, entrepreneurs, farmers, farm consultants and others in the agricultural industry are encouraged to participate in the hackathon, which will be held at the UC ANR building at 2801 Second St. in Davis, from 8 a.m. Friday, July 15, to 11 a.m. Sunday, July 17.
Participants will compete for cash prizes at a "pitchfest" in front of a live audience at the California State Fair on Sunday, July 17, from 1 to 3 p.m. Prizes will be awarded to the top three apps: first place wins $5,000, second place $3,000 and third place $1,500.
"We would really like to see participants come from all corners of the state," said Gabe Youtsey, UC ANR's chief information officer, "Let's see what happens when we mix developers from Silicon Valley and Southern California with agricultural experts from the Central Valley, coast and desert regions."
People who work in agriculture should bring ideas for problems that technology may help solve.
"Apps for Ag Hackathons have already resulted in multiple startups and we want to see this momentum continue to grow," said Robert Tse, USDA California Rural Development chief strategy officer for agriculture technology and innovation. "There is no better place than the State Fair in the Capitol to showcase the ingenuity of California's ag tech community."
One startup that has resulted from a previous ag hackathon is Ag for Hire, which connects farm workers who need jobs with farmers who need workers.
"Apps for Ag is where I met my co-founder, formed the concept and built our first prototype," said Josh Brown, Ag for Hire founder and CEO. "I would not have been able to find someone so embedded in the agriculture industry on my own."
"Hackathons are a great way to spur innovation in industry verticals where technology has not been fully adopted," said Rob Trice, one of the judges and the founder of the Mixing Bowl and Better Food Ventures.
"All roads already point to the State Fair's competitions for other agricultural commodities," said Jay Carlson, ag programs manager at the State Fair, "This makes the fair a showcase for agricultural innovations as well."
For more information and to register, visit http://www.apps-for-ag.com.