August 11, 2021
Robyn Schelenz
,
UC Newsroom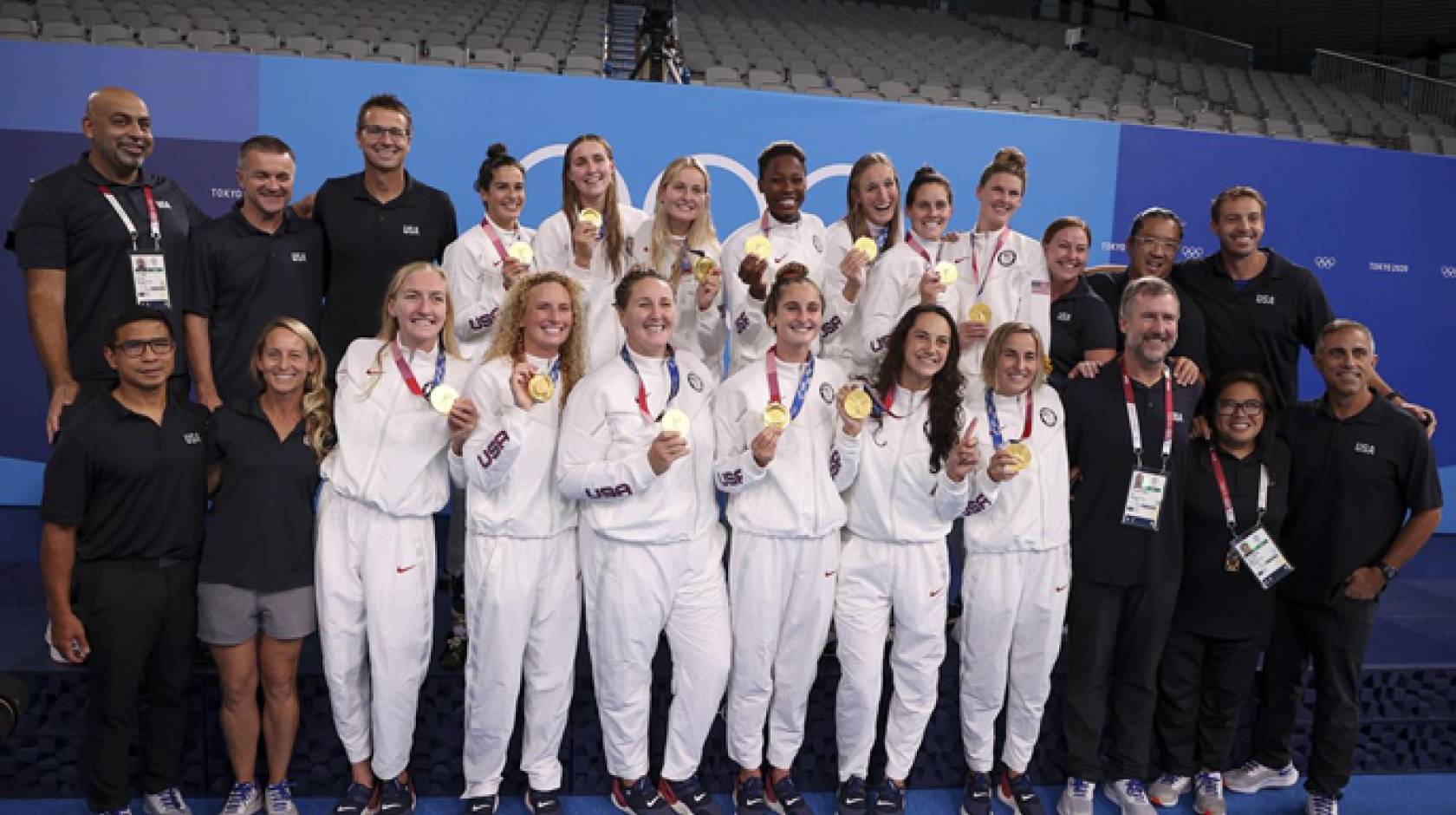 Credit: Courtesy UC Irvine
On Sunday, August 8, the 2020 Olympic Games came to a close in Tokyo, an eventful summer installment that survived the threat of coronavirus to deliver 339 events across 33 sports.
Some of the most memorable performances came from UC athletes, who brought home 37 medals (17 gold, 12 silver and 8 bronze). They stepped up in tricky spots, maintained their composure in the limelight and demonstrated irrepressible drive to compete at the highest level. Here are a few of their stories.
Jordan Chiles, silver medalist, team artistic gymnastics
2020 was supposed to be Simone Biles' Olympics. Having already earned four gold medals in women's gymnastics in Rio (an American record), expectations were even higher this time around. When she stepped away during the team all-around because of an inability to judge her location in the air (what is known in gymnast circles as the "twisties"), Jordan Chiles stepped in. The incoming UCLA freshman initially thought the request to replace possibly the greatest gymnast of all time was a joke.
"I was shocked. I was overwhelmed," Chiles said to NBC's Maria Taylor after the event. "After she did her vault, [coach] Cecile [Landi] came over and was like 'Jordan put your grips on.' I was in so much shock that I didn't know if she was being serious or not. So I was just putting my grips on like 'What am I doing?'"
"And then she told me and I was like, 'okay, this is where I have to actually pull myself together and actually do this,'" she added.
Subbing in for Biles, Chiles performed on the uneven bars and the balance beam, in addition to her planned events of vault and floor exercise. She didn't even get a chance to warm up for the new events, but still posted impressive scores, helping her team earn a silver medal. The drama of the moment was one of the most captivating of the entire Olympics, with the team's resiliency and support of Biles opening the floodgates to a mental health conversation among high-level athletes across many disciplines. The less-heralded gymnasts also rallied to the opportunities they were provided, with Sunisa Lee capturing gold in the individual all-around, Jade Carey taking the gold in floor exercise, Mykayla Skinner earning silver in the vault and Lee the bronze on the uneven bars. And Biles, of course, remarkably returned for a bronze on the balance beam, a medal she said was worth more than all her golds. Biles received counsel from UC Davis' Dr. Marcia Faustin, one of the doctors for the women gymnasts, throughout the Games.
The U.S. women's water polo team, gold medalists
Back-to-back-to-back!

Team USA's women's water polo dynasty continues

(via @NBCOlympics)pic.twitter.com/xBpMjAlVA0

— Yahoo Sports (@YahooSports) August 7, 2021
Winning three titles in a row at the highest level is a difficult feat — but that is what the U.S. women's water polo team did. Led by impressive efforts from scorer Maddie Musselman, voted MVP at the competition's end, and sprinter Rachel Fattal, both of UCLA, the team dominated in all but one match, a surprise loss to Hungary in qualifiers. That team, as it happens, featured Anna Illes, a UC Berkeley senior. Important contributions in the pool from a raft of UC Irvine women, Kaleigh Gilchrist, Jamie Neushul, Melissa Seidemann and Alys Williams, were complemented by the efforts of coaches Dan Klatt (UC Irvine), Chris Oeding (UC Berkeley) and Adam Krikorian, the head coach hailing from UCLA. Seidemann and Klatt's resumes have never looked better as they are now three-time Olympic champions. Earning silver was a gutsy Spanish team that featured UC Berkeley alum Roser Tarrago.
Jessie Fleming, gold medalist, Canadian women's soccer
Also riding high on expectations, the U.S. women's soccer team fell just short, losing to Canada in the semifinal. UC Berkeley's Alex Morgan and UCLA's Abby Dahlkemper and Sam Mewis picked up the bronze in the third-place match against Australia. The woman behind Team USA's loss? None other than Jessie Fleming, a decorated UCLA alum and former co-captain for three of her four years on the college women's team. Her Games was a story of three kicks:
In the match against the U.S., Canada's captain Christine Sinclair collected the ball after Deanne Rose drew the penalty for her side, prompting the announcers to suggest the longtime Olympian would take the kick herself. Instead, she passed the ball to Fleming, who scored the game-winning goal.
Fleming also evened the score in the final against Sweden, once again receiving the ball from Sinclair after a teammate drew a penalty. The game wore on into overtime, leading to a shootout for gold.
The call of Jessie Fleming's tying goal https://t.co/tv2Y3LvwSa

— UCLA Women's Soccer (@UCLAWSoccer) August 6, 2021
Fleming led off the shootout for Canada after overtime, nailing her kick. With so many misses on both sides, her penalty was critical. As a result, Canada won its first-ever gold medal in women's soccer.
Rai Benjamin, gold and silver medalist, men's hurdles
WORLD RECORD‼️

Norway's Karsten Warholm breaks his OWN world record to win gold in the men's 400m hurdles and @TeamUSA's Rai Benjamin wins the silver. #TokyoOlympics

NBC
https://t.co/ZOFdXC4e4u
NBC Sports App pic.twitter.com/lPSNrv2Qoo

— #TokyoOlympics (@NBCOlympics) August 3, 2021
Like many other squads, the U.S. men's track team was under a lot of pressure to perform at the Tokyo Olympics. The team wasn't able to win all the medals they wanted, but among the highlights was the work of former UCLA hurdler Rai Benjamin, who helped the men's 4x400-meter relay team win gold after notching a world-record smashing performance in the 400-meter hurdles days earlier. Unfortunately for Benjamin, Norway's Karsten Warholm also broke the world record, just edging him out for gold in the 400-meter hurdles by 0.23 seconds. And they didn't just break the 29-year-old world record — together, they destroyed it. "That was as fast as men run in the open 400 with no hurdles!" NBC analyst Sanya Richards-Ross exclaimed.
"If you would have told me that I was going to run a 46.1 [second race] and lose, I would probably beat you up and tell you to get out of my room," Benjamin said wryly after the race.
"But I am really happy to be a part of history like this and just to show, like, where this event can go."
"That was the best race in Olympic history."
The U.S. swim team, gold, silver and bronze medalists
The #USA 4x100 men's medley relay sets a new world record to take #gold — Ryan Murphy to Michael Andrew to Caeleb Dressel to Zach Apple

pic.twitter.com/jDR2Z3Fbj7

— Billy Heyen (@BillyHeyen) August 1, 2021
UC Berkeley swimmer Ryan Murphy was not able to match East Germany's Roland Matthes with back-to-back golds in the 100-meter and 200-meter backstroke, but he did win bronze and silver, respectively. And he still made history — leading off the men's 4x100m medley relay team, he helped set a new world record and preserve the U.S.'s unbroken string of gold medal performances in that event (the U.S. has never lost). Tom Shields, UC Berkeley butterfly specialist and American record holder, also netted a gold for his performance for the 4x100m medley relay team in a qualifying heat. After a struggle with depression that included a suicide attempt, it was possible Shields wouldn't be here at all; to be back at the Olympics again, and a gold medal winner to boot, is a profound achievement.
On the women's side, UC Berkeley's Abbey Weitzel netted a silver and a bronze in the 4x100m medley relay and the 4x100m freestyle relay, respectively; joining her on the podium was fellow Bear Katie McLaughlin, in her first Games, who helped the women's 4x200m freestyle relay team win silver. Simply competing at the Olympics was a huge and long-awaited moment for McLaughlin, who missed out on the Rio Games due to a freak injury.
Also on the podium
UC athletes collected medals in other sports as well.
UC Irvine's Michelle Bartsch-Hackley helped deliver a first-ever gold to the U.S. women's indoor volleyball team, coached by UCLA's Karch Kiraly with UCLA's Sue Enquist in a supporting role. Bartsch-Hackley was one of the team's top scorers in their final against Brazil. After the win, Kiraly (a legend in the sport in his own right), held back tears, saying, "I want this program to experience standing at the top of the podium. I have no other words."
The women of indoor @USAVolleyball win their first Olympic gold medal EVER!#TokyoOlympics x @TeamUSA pic.twitter.com/VAicS2KGwI

— #TokyoOlympics (@NBCOlympics) August 8, 2021
Jrue Holiday and Zach LaVine (both UCLA alums) helped propel the U.S. men's basketball team to their fourth Olympic title in a row, after the team's rough pre-Olympic start that had some doubting. UC Irvine's Kevin Tillie helped win a gold for the indoor volleyball team of France. In baseball, UCLA's Eric Filia helped the U.S. win silver; UCLA softball's Ally Carda, Rachel Garcia, Bubba Nickles and Delaney Spaulding, and UC Berkeley's Valerie Arioto, did the same for the U.S.
UC Berkeley's rowing program deserves major props, too. Team members brought home four new medals — Rosemary Popa (gold, for Australia), Sydney Payne (gold, for Canada), Jack Clearly (bronze, for Australia) and Joachim Sutton (bronze, for Denmark) — in a remarkable display across multiple events.
Whether on the podium or off, the grit of UC athletes to get to this moment — in many cases having to prepare not just once, but twice, for one of the most important competitions of their lifetimes — is an achievement. Three cheers for all the impressive athletes, coaches and staff of UC.
View the full UC Olympic roster, with updated medal counts, here.