May 20, 2015
Nicole Freeling
,
UC Newsroom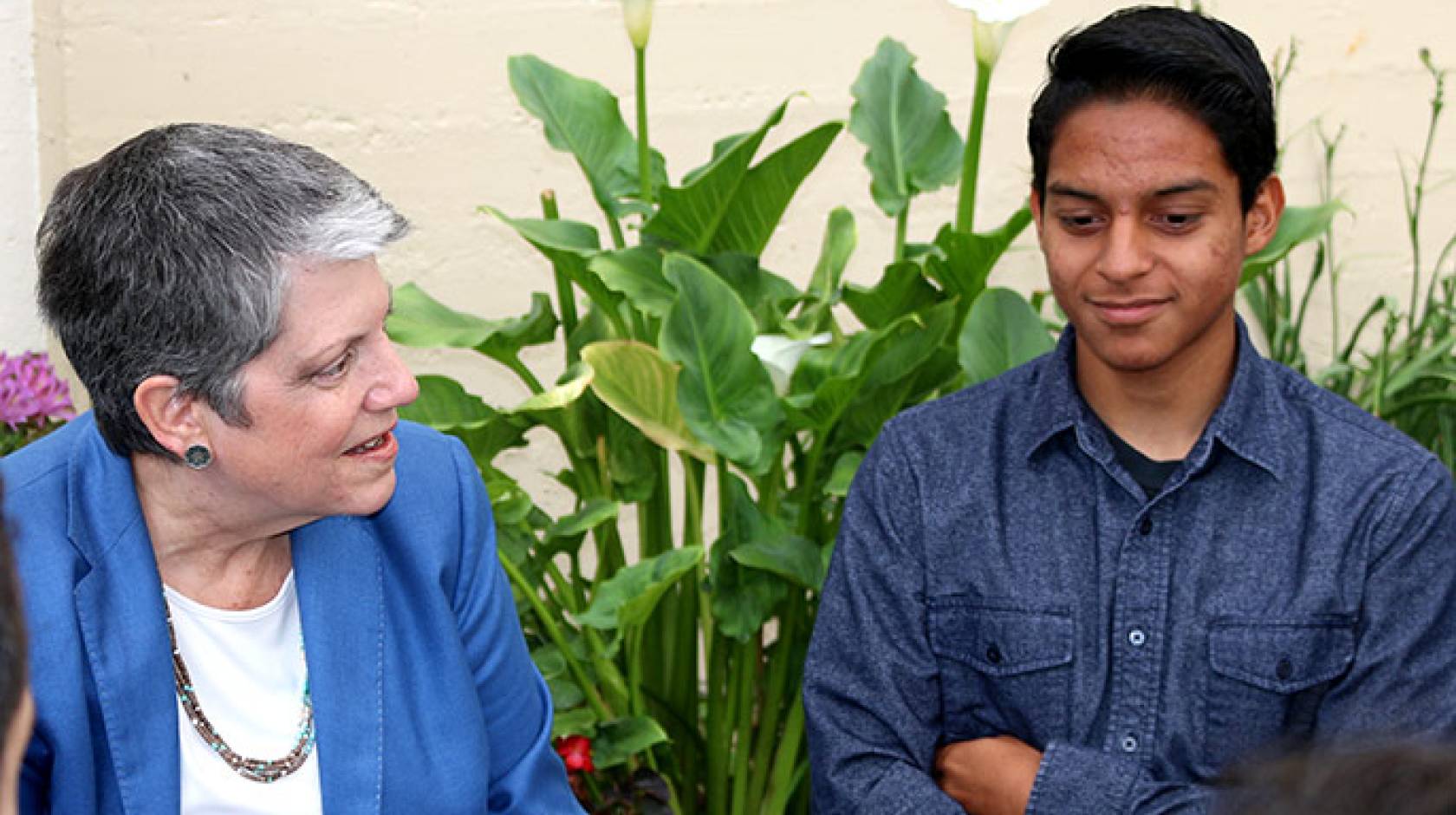 Credit: Jeffrey Gothard/Santa Ana Unified School District
When Esmeralda Garcia received notice that she had been admitted to UCLA, she hid the letter from friends and family.
"I thought, 'I'm not going to be able to fit in. I'm not going be able to afford it." Garcia said. The child of immigrant parents who couldn't read or write, Garcia had applied thinking that she would use her UCLA rejection letter as a badge of honor for giving it her best shot. When she found out she'd gotten in, she panicked.
Her teachers ultimately persuaded her that she was indeed UC material, and Garcia got enough financial aid and scholarships to cover the complete cost of her education. She graduated in 2014 debt-free.
"It's hard work — nothing is handed to you," Garcia told an audience of 500 high-achieving freshman, sophomores and juniors at Santa Ana High School on Monday (May 18). "But you can do it. You can fight for your dreams."
'Yes, you can'
Garcia shared her inspirational story during a rally attended by UC President Janet Napolitano and UC Irvine Chancellor Howard Gillman aimed at delivering a message to the predominantly low-income student body that harkened to Cesar Chavez's rallying cry: Sí, se puede.
Heralded by the school's marching band, a pep squad and school mascots Sammy and Sally Saint, Napolitano assured students that a UC education was attainable.
"I'm here to tell you today, that 'Yes, you can,'" Napolitano said. "Getting into the University of California is not easy, but it is doable, and students just like you do it every year."
Gillman told students that just down the road at UC Irvine, "students just like you are doing original research in our bioengineering labs, making cutting-edge video games, writing their first novel, developing a business plan for their start-up."
The oldest and largest high school in Orange County, Santa Ana is 98 percent Hispanic. Many students are English language learners, and most qualify for free or reduced lunch. Despite the fact that UC Irvine is only nine miles away, many Santa Ana students see a UC education as something that is far beyond their reach.
Officials hoped the visit by Napolitano and others on Monday would help change that perception.
The path to a UC education may be strenuous, but it is straightforward, Napolitano said: Complete the required curriculum and take the SAT, take tough classes, earn good grades.
The money is there
If students do their part to meet the academic requirements, financial aid is available to help with the cost of their college education.
Students from families who make $80,000 or less have their tuition fully covered under UC's Blue and Gold opportunity plan. Work-study, financial aid, scholarships, grants and low-interest loans are available to help students cover living expenses.
That news came as a surprise to many at the rally.
Students don't realize how affordable UC can be, said UC Santa Cruz-bound senior Marilynn Jauregui, who plans to major in psychology. Most of her expenses are covered by financial aid. With work-study, she needed only a small loan of under $1,000 to cover the rest.
"There's a lot of help," she said.
To increase the number of college- and UC-bound students, the university provides onsite mentoring, academic planning and college application support at Santa Ana High through its Early Academic Outreach Program (EAOP). In the last year, UC has sponsored workshops to help students apply for financial aid, write personal statements, and navigate the college application process.
Validation
When university leaders come to a high school like Santa Ana it sends a strong message — not only that students have what it takes, but that the university wants them, said Santa Ana high school principal Julie Infante. "It says a lot to have these dignitaries here who care about their future and where they are going."
Before the rally, Napolitano had breakfast with 25 Santa Ana seniors who are on their way to UC campuses this fall. Many of them are among the first in their families to go to college and virtually all come from low-income families.They all possess an asset that is critical to success at UC: persistence.
It was persistence that led Garcia to stick to her high school studies and later prompted her to come back as a UCLA graduate to encourage others.
"People think students like us don't go to college," she told her fellow Santa Ana Saints. "You all can change the stereotype."