June 11, 2015
Nicole Freeling
,
UC Newsroom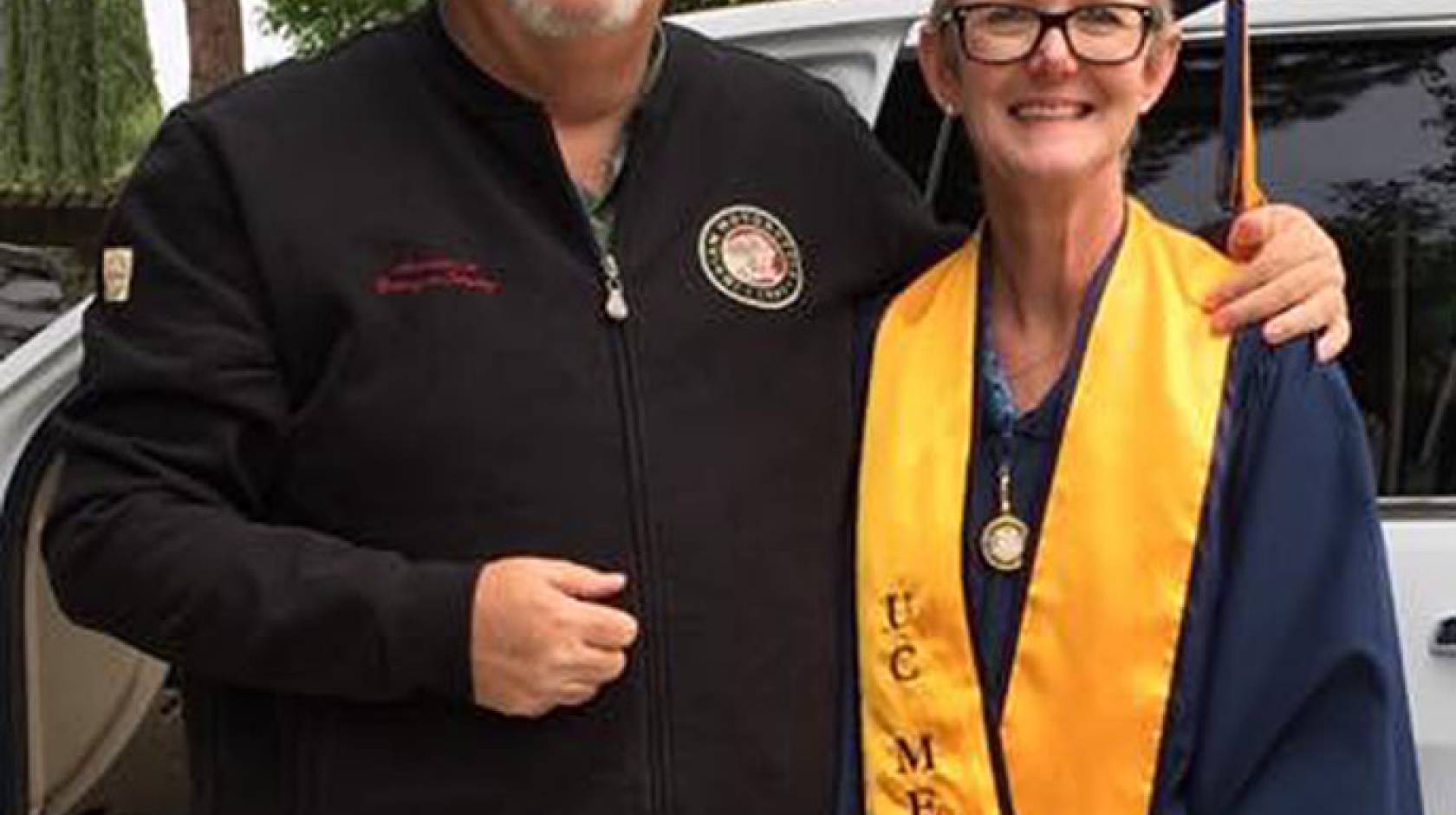 Credit: Courtesy Tamela Adkins
On the 10-year-old UC Merced campus, Tamela Adkins is as veteran as they come.
The emergency preparedness manager was among the first employees at the newest UC campus when it opened its doors on Sept. 5, 2005. Last month, the 53-year-old became one of its oldest students to be awarded an undergraduate degree.
It was a journey that began almost by accident.
A 23-year career employee with the California Highway Patrol, Adkins was asked by a friend to interview public safety candidates for the soon-to-open university. As she sat considering others for the job, she realized she had the perfect credentials. "I thought, 'Wow! I would love to do this!'"
The review committee agreed, and Adkins came on board just weeks before the first classes began. She hired police department staff, put together the campus 911 center, created a records and evidence unit, and automated police records.
Over the years, Adkins had taken courses at various community college courses, driven mostly by curiosity.
"I've always loved the classroom experience," she said. "I love the students' energy, enthusiasm and creativity. It inspires me."
Adkins has always been someone who wanted to learn more, and delved into books and research to find answers. Those qualities would seem to make her a natural student. But no one in her family had gone to college, and they did not see higher education as worthwhile.
Adkins' mother took tremendous pride in her daughter's career as a public safety dispatcher. A college degree was seen as frivolous and costly, a distraction from getting a job and earning a living. But at Merced, Adkins felt a nagging desire to experience more of the academic life that surrounded her.
She was also curious: How did students experience the processes her department had put in place? "I wanted to know: Do the processes we set up work?" she said.
In 2010, she amassed all the credits she had earned at various community colleges and enrolled at Merced College to fulfill the last of the transfer requirements. She was accepted to UC Merced shortly thereafter.
A different kind of student
As an undergraduate, Adkins continued to work full time at her job on campus. (She also devoted many hours to community service. This fall, she will be installed as the first female president of the Merced Breakfast Lions Club.)
Coming to class in a suit straight from work, she cut an unusual figure amid the 20-year-olds in flip-flops and shorts.
Her fellow classmates were a bit leery sometimes, but they would quickly warm up to her when they worked together on projects.
By her own description, she has great organizational skills, and could always be counted on to help make a project go. She was always trying to push herself and others to go that extra bit further on a project: "I'd say, the project is worth 100 points, but I bet if we really get out there, we could get 110."
Meanwhile, her younger classmates impressed her with their technological savvy.
"We learned from each other," she said. "I'd say: 'I'm so envious of the time you have to study.' They'd say: 'I'm so envious that you already have a career.'"
Overcoming setbacks
Adkins had a few setbacks. The biggest was a bout with breast cancer that hit midway through her third year of study at UC Merced.
She had surgery and underwent treatment without missing a day of class or work. She credits her stubborn stick-to-it-iveness, and her positive outlook for helping get her through. "I just tried not to think about it, to relax and try to have fun," she said. "It's what I've always done."
After receiving her psychology degree, Adkins did a bit of soul searching to figure out what would come next. Her answer: Continue with what she is doing, working at a job she loves.
But now, she says, she is able to bring to it new skills and greater knowledge. "I definitely question things more than I did. Without a doubt I am a better writer, and I have sharper analytical skills."
More than anything, she said, completing her undergraduate education has been a journey of tremendous personal growth.
She becomes emotional at the prospect of what she might have missed if she had never gotten the job on campus, which sparked her conviction to enroll.
"It is just overwhelming, when I think of how great it's been and how much I've learned, to think I might never have had this opportunity."