December 14, 2015
Nicole Freeling
,
UC Newsroom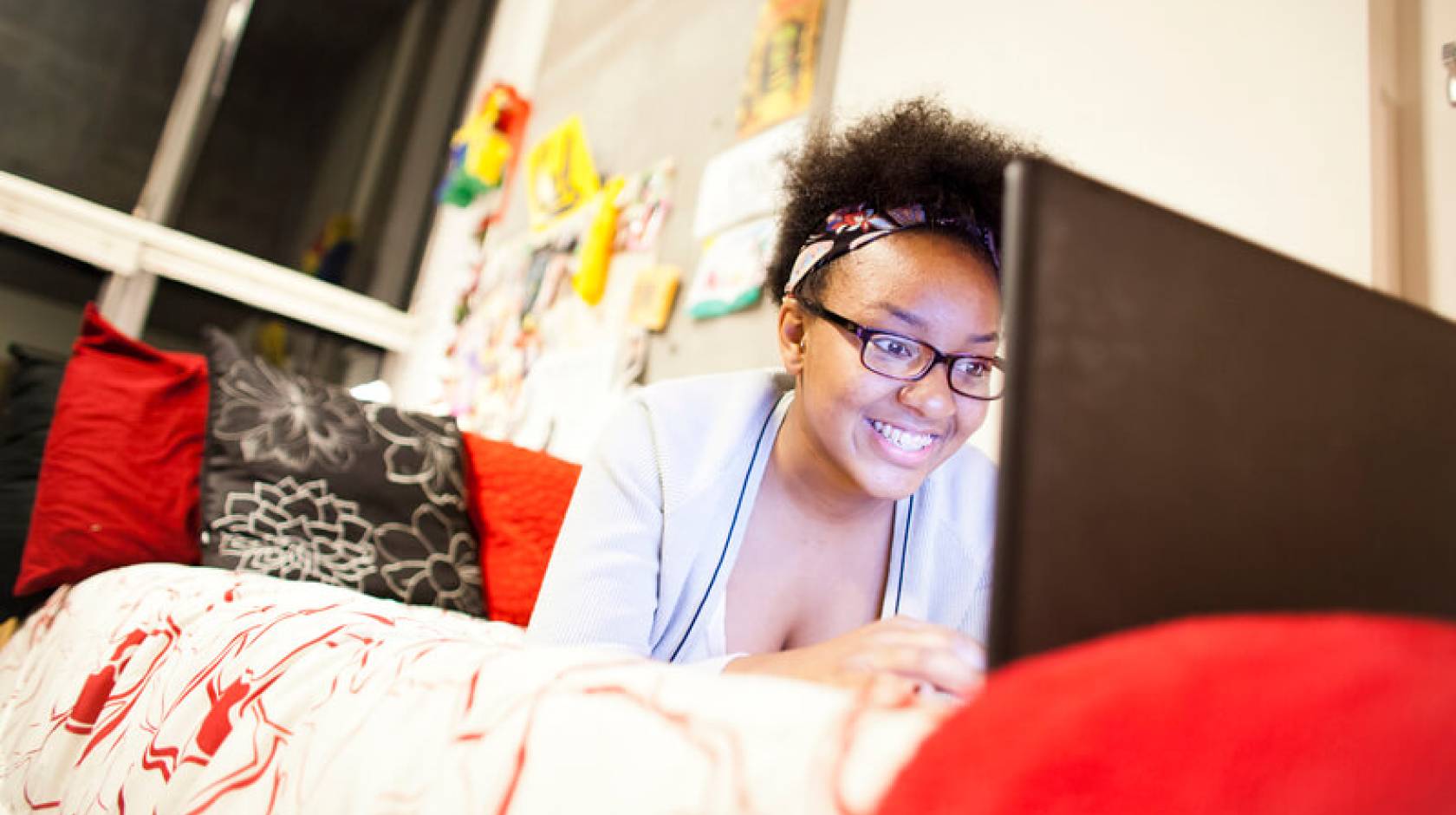 In many ways, UCLA professors Jochen Stutz and Tim Tangherlini are on opposite sides of the same problem.
Stutz teaches a popular air pollution course, but even in a large lecture hall that can hold several hundred students, some get turned away. Tangherlini offers elementary Swedish, and students often have to wait several quarters before there is enough demand for it to be offered.
In both cases, students can find it difficult to get the class they want. UC is looking to solve the issue by boosting the number of online courses open to students at any of the nine undergraduate campuses
Launched in January 2013, UC's Innovative Learning Technologies Initiative (ILTI) has supported the development of 80 online undergraduate courses, with dozens more in development. Subjects range from psychology and pre-calculus to more esoteric topics.
The courses – which are as rigorous as in-person courses – carry unit credit, and many count toward specific graduation or major requirements. Some 29 are now open for enrollment for the coming term.
"I thought about teaching an online course for years, but I didn't have the resources to put it together," said UC Santa Cruz faculty member Susan Schwartz.
ILTI offered funding and the technical and instructional design support she needed to develop a course on the geology of national parks, which she now co-teaches with UC Davis professor David Osleger and UC San Diego professor Jeff Gee.
The course takes students on a virtual tour of iconic natural wonders – from the Grand Tetons to the Grand Canyon. Schwartz's research specializes in deformation at plate boundaries, including earthquakes and volcanoes (think the Cascades and Glacier National Park), while Osleger focuses on sedimentary rocks, such as that which defines the Colorado Plateau. Gee's expertise is in paleomagnetism, marine geology and geophysics.
"These different knowledge areas and lecture styles combine to produce really good content," Schwartz said.
By taking it online, students are able to schedule the course to fit with their other classes and commitments.
"I've taught for 25 years, and there are always students who struggle to get classes to meet distribution requirements," Schwartz said. "Whether it's a music major trying to find a science class that fits into their schedule or someone who has a family emergency, this format is flexible in helping students get a course they need so they can get through and graduate in four years."
Expanding access by the 'Power of 10'
Along with providing resources to help faculty craft dynamic online classes, ILTI has also been engaged in another undertaking — untangling the administrative and logistical hurdles required to enable students to enroll in classes on other campuses.
Before now, a student who wanted to take a course from another UC campus was required to obtain handwritten approvals from several departments. That process – along with transfer of grades and academic credit – can now be accomplished with a mouse-click through UC's cross-enrollment website.
"This is a game-changer," said Tangherlini. "We're taking advantage of resources the University of California already has, expertise the state has already invested in, and we're making that available across the system."
Students now have another way to enroll in high-demand gateway courses that, on some campuses, fill up so quickly that it can create bottlenecks to student progress. Students also have an option for taking courses that are not offered on their campus.
Tangherlini's Swedish class is a great example. And he and his colleagues are expanding those language options to incude introductory Norwegian, Finnish, Danish and Icelandic – courses they expect to fill up once offered across other UC campuses. "If we want to leverage the 'Power of 10' the way I know we can, it's not only high enrollment but also the less-commonly taught courses that can really benefit from cross-campus instruction," he said.
Tools for promoting richer discussion
Meanwhile, instructors of many high-demand classes say they are able to foster richer class discussion using online tools than is possible in a 300-seat lecture hall.
Instructors are able to create interactive exercises woven into the course of instruction, rather than breaking up learning into in-class lectures and out-of-class coursework.
For a UC Berkeley course on literacy that is part of its increasingly popular education minor, instructors have developed a suite of tools that enable students to work to create, curate and discuss material in novel ways.
Student work, along with other reading material and resources, is organized by hashtags in a wide-ranging, searchable "asset library." Students use whiteboards that incorporate both written and visual content to organize and present their ideas.
As a result of this interactive style of learning, students are not only consuming knowledge but are learning to create it – an important part of the process of becoming an educator, said professor Glynda Hull.
She plans to teach it online from now on because it has been such a successful model. "I really enjoy doing (in-person) lectures, and the feeling of being able to see students' reaction. I kind of miss that," she said.
"But my students are getting much more out of the course now. This positions them to be not just consumers of knowledge, but the makers and doers of creating it. The material engages them at a very deep level."