October 30, 2013
Nicole Freeling
,
UC Newsroom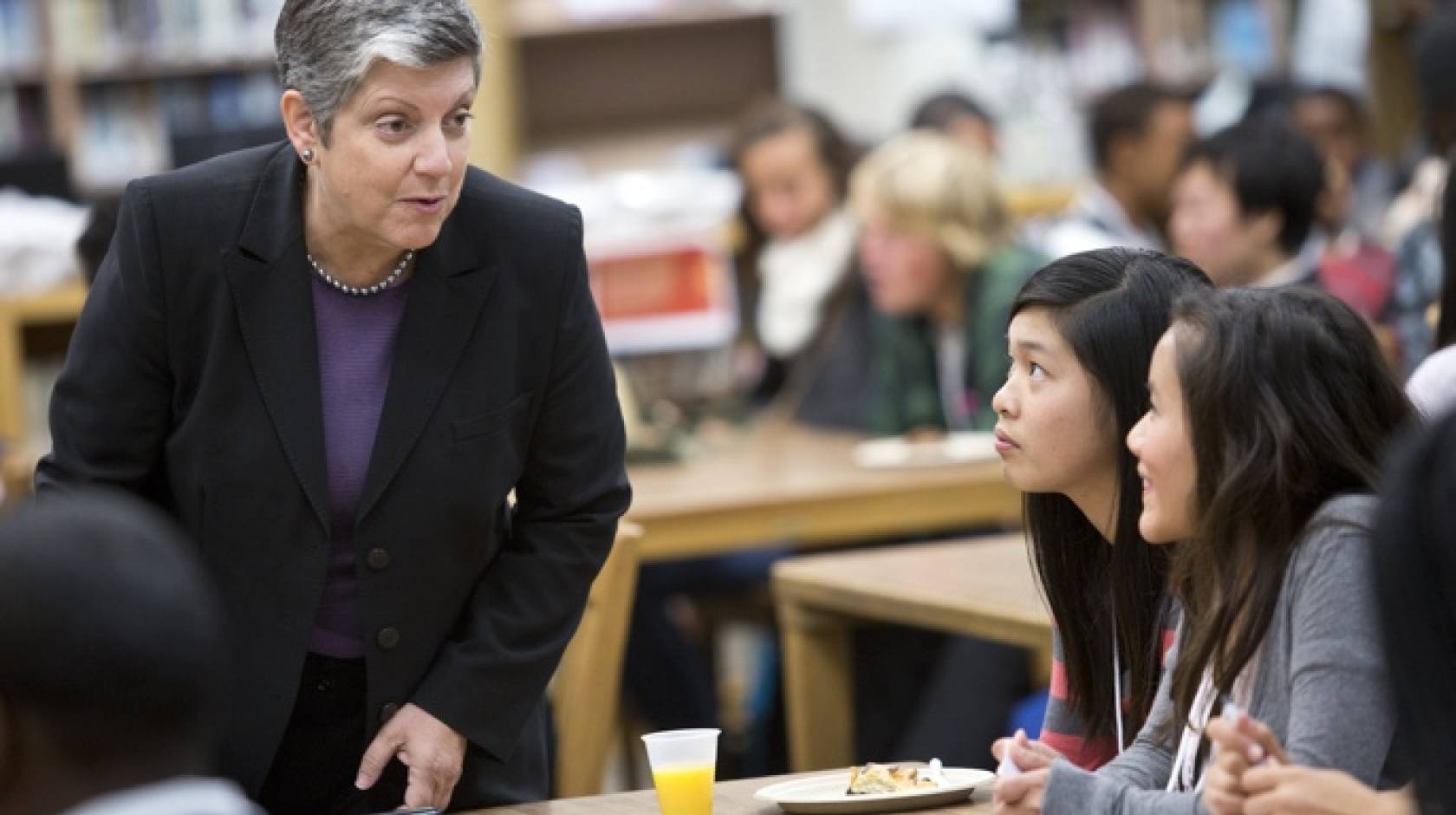 OAKLAND — University of California President Janet Napolitano met with students at Oakland Technical High School today (Oct. 30) to hear about their hopes and aspirations, and to assure them that the doors to the greatest public university in the world are open.
The meeting marked one of Napolitano's first public visits outside a UC campus since taking office a month ago. She chose Oakland Tech in part because UC has a long history of partnering with administrators there to improve college-going rates among its students.
UC within reach
At the campus, which is just a few miles down the road from the administrative headquarters of the entire 10-campus UC system, Napolitano urged students to see college — and the University of California — as within their reach.
She urged them to work hard and set high expectations for themselves. In turn, she promised to ensure that the University of California would remain both accessible and affordable.
"What you do, and what your passion is for — that comes from you," she said. "Here's what I can do. I can help make sure that the University of California is accessible to California students, it's affordable to California students, and it retains its world-class excellence."
In fact, she said, "I want to look at what we can do to not only keep our doors open and accessible, but what we can do to open them even wider."
UC has worked hard to make sure that the cost of going to college is not a barrier, Napolitano said, with strong financial aid programs. UC's Blue and Gold Plan, for instance, covers tuition costs for roughly half of all university students.
"If your family makes $80,000 or less you pay no tuition — not one single dollar — to attend the University of California."
That information was welcome news to many students.
"I had no idea there was a program like that," said senior Jacqueline Hammoude who, as one of three college-bound siblings, said cost is definitely a concern for her family. "I was shocked when I heard that you pay no tuition. There are a lot of people that would help."
Prior to her address, Napolitano had the chance to hear first-hand from participants in some of Oakland Tech's leadership and college development programs, who shared their hopes and concerns about college.
At that meeting, Napolitano asked the students, "How many of you think college is unaffordable?"
A roomful of hands went up.
When she told the assembled juniors and seniors about the tuition breaks available through plans like Blue and Gold, there was an audible murmur from the students.
"We were all surprised," said senior LaMarr Davis, who is looking to study engineering. "It gave us hope."
History of partnership
Oakland Tech shares more than physical proximity to UC. For more than 20 years, the university has worked as a partner to the school on programs to improve access to college.
A few years ago, university staff helped establish a college and career center. UC college advisors are now on staff there four days a week, helping students get critical assistance on preparing for, applying and getting to college — whether at UC or elsewhere.
Oakland Tech has more than 2,000 students, nearly half of whom qualify for free or reduced-price lunches. It also serves large numbers of under-represented minorities.
Over the last few years, the campus has seen increases both in academic performance and college-going rates, including an increase in students who applied and got accepted to the UC system.
Last year, for example, 65 percent of Oakland Tech students who applied to UC were offered admission.
"You guys have all the resources to make it," Oakland Tech alum Daishar Young told students at the rally.
As a student of color from a low-income family whose mother passed away when he was a teenager, Young faced an array of barriers to college. "Every day during lunchtime, I was applying to scholarships. As a result, I entered UC Berkeley with a full ride."
Young graduated from Berkeley in May with a degree in anthropology.
He urged his peers: "As students of color, and as students coming from the Oakland school district, show the world what you're made of."