September 25, 2015
Bettye Miller
,
UC Riverside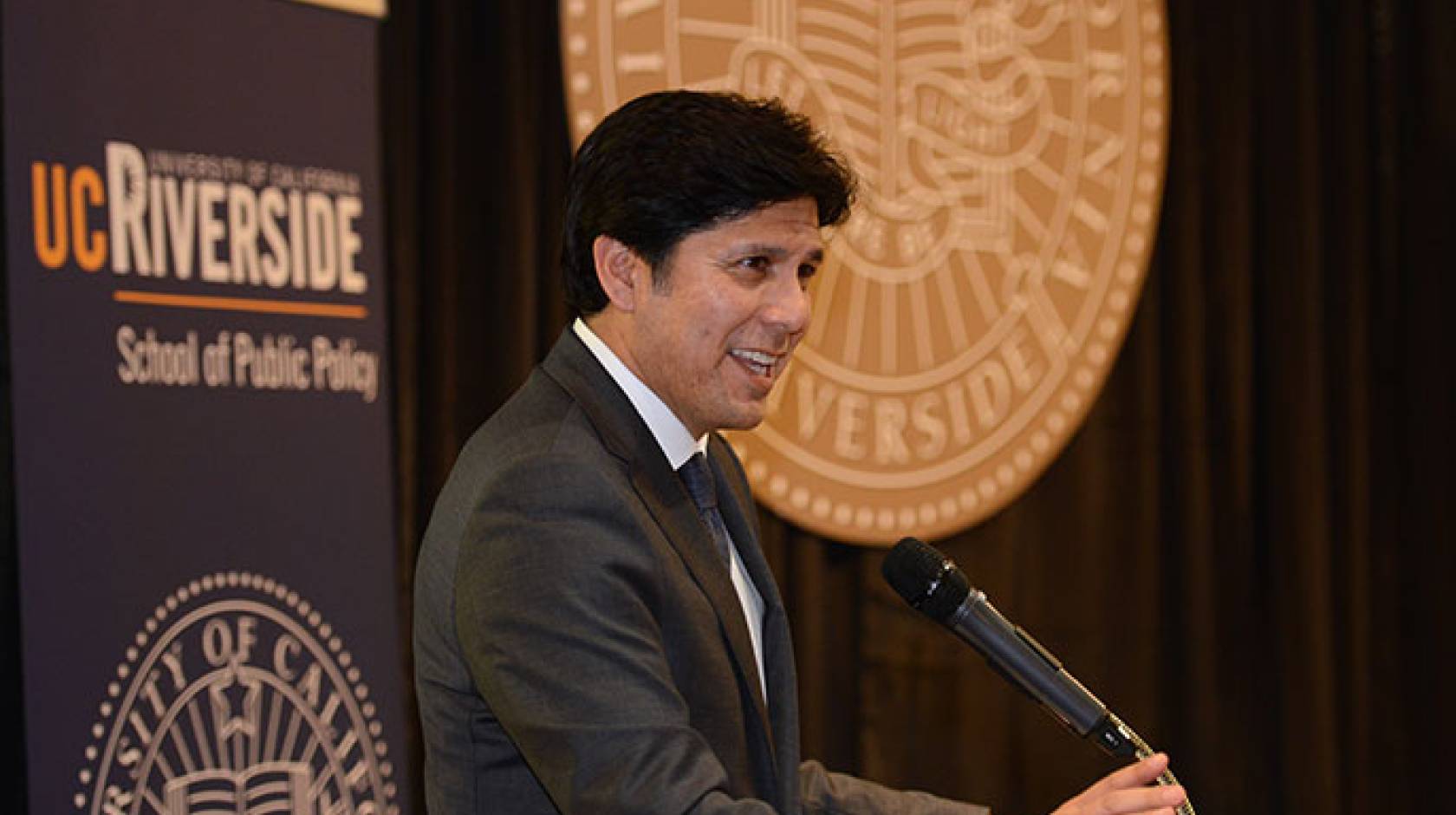 California State Senate President Pro Tempore Kevin de León exhorted students in the UC Riverside Master of Public Policy program on Sept. 25 to be creative and passionate in seeking solutions to challenges facing Inland Southern California, the state and the world.
"The challenges facing our state in the 21st century are very real and pressing," he told the inaugural class of 29 graduate students in the School of Public Policy and more than 150 regional, state and university officials who gathered to celebrate the launch of California's newest Master of Public Policy program. "Public policy matters. … Your ideas will matter."
"As you advance in public policy careers, you must do so with an eye toward civic morality that focuses on equitable solutions to the problems our society faces, with a focus on what unites us, rather than what divides us," de León said, alluding to the philosophy of civic morality espoused by the late UCR Chancellor Tomás Rivera.
Expectation to effect change
Los Angeles entrepreneur Joseph N. Sanberg, who funded scholarships for seven students for two years, told the students he expects them "to effect systematic change to revitalize middle-class life in California."
He recalled his maternal grandfather, Abraham "Manny" Rice, for whom the scholarships are named. The youngest of 15 children born to Ukranian immigrants in Chicago, Rice moved to Orange County as a young man and led a successful life. Today, people in similar circumstances move to the Inland Empire, Sanberg said.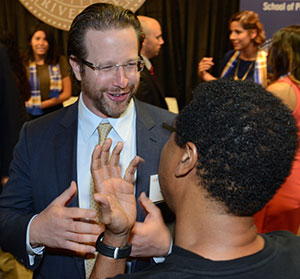 "We have a drought in California," he said. "We also have a drought in original thinking in public policy. I expect you to be creative and original in your thinking."
Sanberg led the M.P.P. students in a pledge: "I commit to using my UC Riverside Master of Public Policy degree to ensuring that the opportunities that young people today get to enjoy are not left to luck or chance."
Referring to forecasts of potentially drought-ending El Niño rains, School of Public Policy Dean Anil Deolalikar told the graduate students, "This is the El Niño of UCR. We expect you to fulfill the El Niño Dream."
In earlier remarks Deolalikar said that launching the M.P.P. "is a really big deal for this region. We are underserved in terms of policy analysts who are trained in the evidence-based science of policy making."
The School of Public Policy is the first in the Inland Empire and only the third in the University of California system.
UCR Chancellor Kim A. Wilcox called the launch of the Master of Public Policy program "a great day for the School of Public Policy and a great day for the university. … I have nothing but high hopes for this school in the years to come."
Global approach to local issues
The UCR School of Public Policy will take a global approach to addressing regional and local policy challenges and will train policy leaders who will implement new approaches to improve Southern California, Deolalikar said. It also will serve as a place where critical and strategic conversations among researchers, policy makers, and practitioners can take place.
The Inland region's trends, opportunities and challenges preview the future in other parts of California, de León told supporters who filled the Alumni and Visitors Center.
He recalled his childhood in the Barrio Logan neighborhood of San Diego, a community he described as "full of hard-working and proud people. It also was an industrial dumping ground that had more than its share of poverty, pollution, drugs and gang violence." The child of a single, immigrant mother who immigrated to California, he credited his mother's example of hard work and the encouragement of teachers for putting him on a path to success.
But the opportunities of his childhood do not exist today for many others, he said.
Building up
"Hard work is paramount to success," de León said. "But no matter how hard some people work, because of their lack of access to resources and education or their social-economic class, they are relegated to live differently. Very differently. They are relegated to live with less. Much less. The crucial element of success is in community and how we relate to and support each other. How we build a society that allows for upward mobility.
"We are at our best when we elevate each other, rather than drag each other down. We are at our best when we help those who are less fortunate or those who are at a disadvantage."
Tomás Rivera, who was UC Riverside's chancellor from 1979 until his death after a heart attack in 1984, advanced the notion of civic morality, a call to action to build a better community, the senator noted. Rivera was the first Latino and first minority chancellor in the University of California system.
"Rivera reminds us that our education, combined with our access to the resources of that education and positions of influence through our work, requires that we see ourselves as morally bound to serve our community," de León said. "That we think about the world in terms of 'we' as opposed to 'I.' At our core, we are all connected. We are Californians. We are the Golden State."