November 29, 2021
Carolyn McMillan
,
UC Newsroom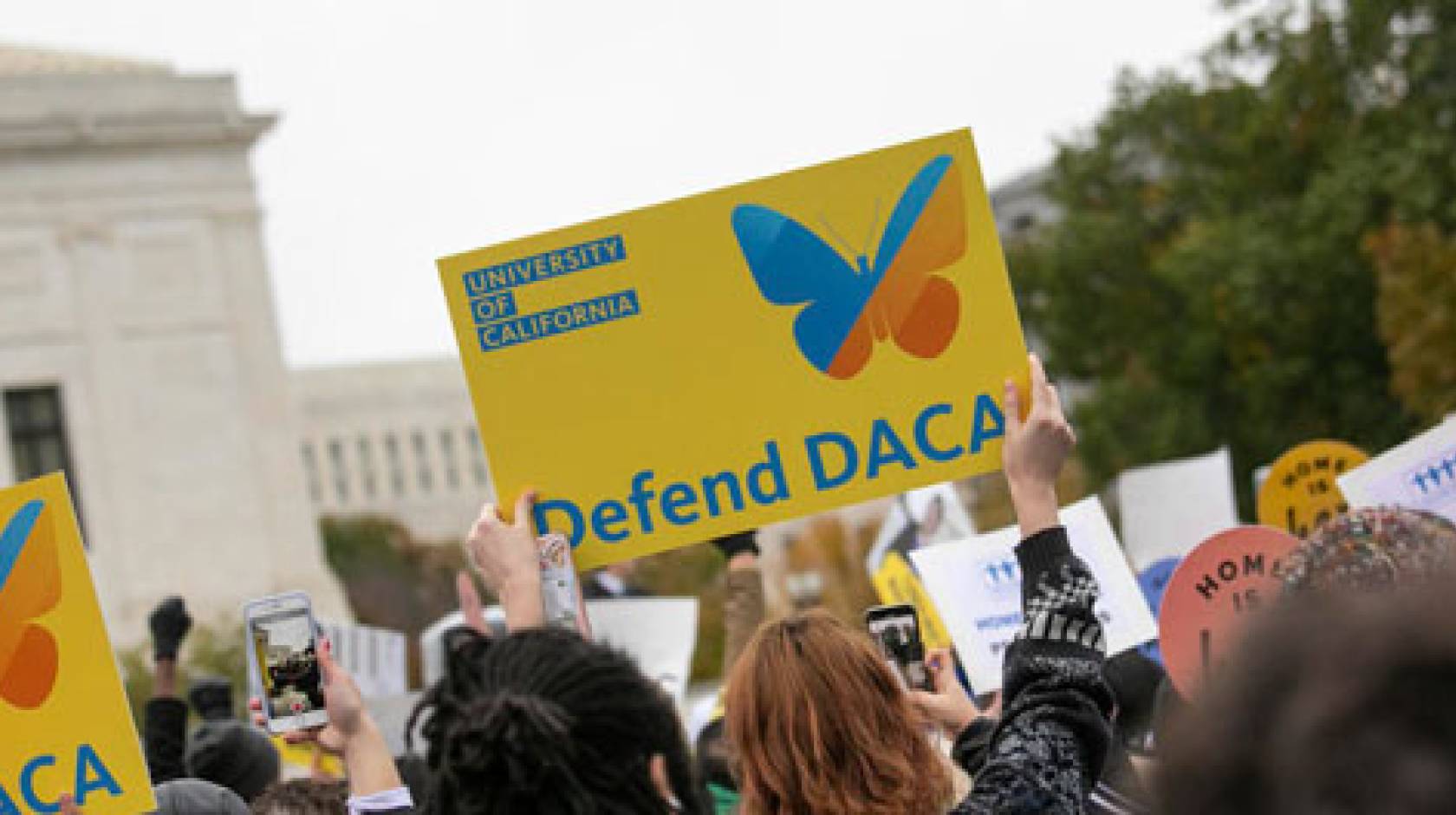 Credit: Scott Henrichsen/University of California
University of California leaders have come out in support of a proposed rule by the Biden administration that would preserve and fortify the program that provides legal protections for young people who were brought to the United States as children.
The Deferred Action for Childhood Arrivals program, or DACA, allows recipients to go to college, hold jobs and contribute to their communities without fear of deportation. It has allowed thousands of young people who came to the U.S. as children to safely build lives in the only country that many of them have ever known.
UC President Michael V. Drake, M.D., and all 10 UC chancellors sent a letter to U.S. Citizenship and Immigration Services on Nov. 22, strongly supporting the Biden administration's effort to shore up the program and stressing its importance to the University and its roughly 3,400 DACA recipients.
"The DACA program has been extraordinarily successful, benefitting hundreds of thousands of DACA participants, along with their families, schools, employers, and American society more generally," the letter states. "For UC in particular, the thousands of DACA participants who have enrolled at UC as students, worked at UC as employees, and represented UC as graduates have brought irreplaceable perspectives and talents to the University."
UC leaders propose several improvements to DACA, most notably modifying date and age-based eligibility criteria. The proposed changes would protect more people who were brought to the U.S. as children but who are currently excluded from the DACA program based on somewhat arbitrary date requirements. UC leaders also propose making the cost of applying for DACA less of a burden for applicants by reducing the application fees or offering a needs-based fee waiver and by lengthening the renewal period from two years to five.
The Biden administration's proposed rule comes in response to a federal court ruling in July that declared DACA unlawful, citing procedural issues. The ruling halted immigration services from processing pending applications or accepting new ones and left the nation's current DACA recipients in legal limbo.
The proposed rule would provide relief to current and future DACA recipients and could also strengthen DACA against future legal challenges.
UC's letter cites testimonials from a number of current and former UC students about how the program put college in reach and allowed them to work toward a better future for themselves and their communities.
It also pointed out that DACA has been of tremendous benefit to California and the nation during the pandemic:
"Currently, California is home to approximately 8,600 DACA-participant healthcare workers, roughly half of whom (like California healthcare workers generally) received their training at UC," University leaders write. "These DACA-participant healthcare workers are essential to staffing California's overburdened healthcare system. … Without DACA, healthcare institutions across the California healthcare system could not maintain their capacity for patient care during this public health crisis."
UC has long been a staunch supporter of the DACA program and it is University policy to welcome and support students without regard to their immigration status. In 2017, when the Trump administration announced it would rescind DACA, UC sued in federal court. The legal fight went all the way to the Supreme Court, where in June 2020, UC prevailed.
The DACA program has been extraordinarily successful, benefitting hundreds of thousands of DACA participants, along with their families, schools, employers, and American society more generally.
- UC leaders