August 26, 2015
Patti Waid
,
UC Merced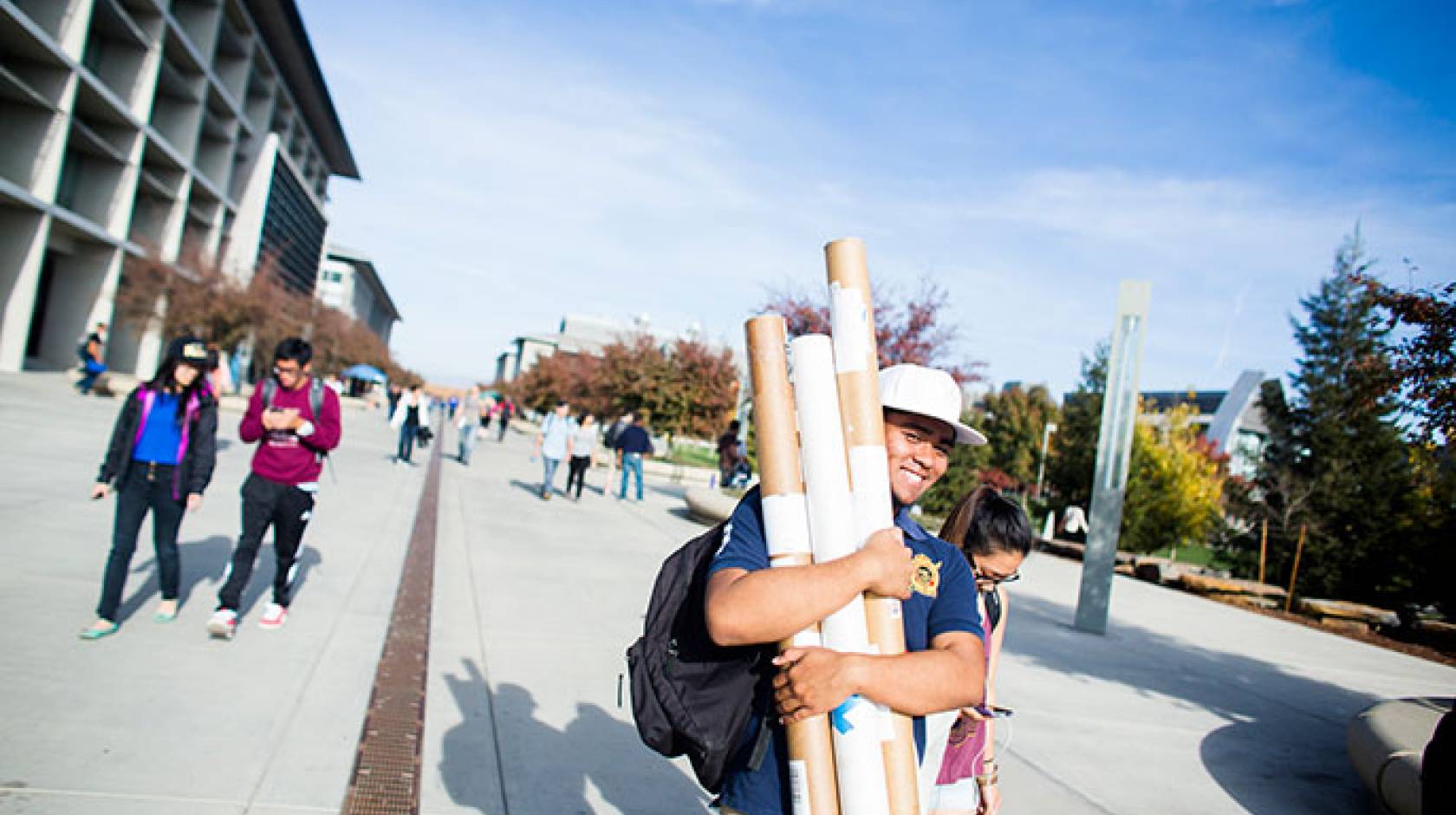 Ten years ago, the University of California, Merced, opened its doors with 875 students, a handful of permanent buildings and high hopes for the first new UC campus in 40 years — and the first ever in the San Joaquin Valley.
Today, UC Merced enters its second decade of operation with a new high in student enrollment, a $1 billion expansion proposal in advanced stages of development, and a freshly minted strategic plan that promises to accelerate the university's quest for academic and research distinction.
When the UC's 10th campus opened on Sept. 5, 2005, its path forward was far from certain. A sluggish state economy, deep cuts in funding for education and political upheaval in Sacramento were already clouding the horizon. A prolonged recession, the worst since the Great Depression, was soon to follow, making the decade of UC Merced's birth one of the toughest in state history.
"There's a spirit to this campus and the people who brought it to life that really wants to succeed," UC Merced Chancellor Dorothy Leland said. "Despite unprecedented challenges, we've put down strong roots, built the most environmentally sustainable campus in the country and worked diligently to bring the many benefits of a major research university to the San Joaquin Valley and beyond."
Among those benefits, Leland noted, are $1.3 billion in regional economic investment to date ($2.5 billion statewide), thousands of permanent new jobs, research expenditures in excess of $180 million, a doubling in applications to the UC system from Valley students, and more than 4,000 new graduates. Unmeasured in dollars and cents, but equally valuable, are the efforts of UC Merced faculty and student researchers to address many of the region's chronic health, environmental, economic and cultural challenges.
"We're energized every day by the mounting evidence that our mission here in the Valley is making a positive difference," Leland said. "We begin the new year with excellent momentum, an exceptional team of faculty and staff, our largest student body to date, and an optimistic outlook for the next major phase of campus development."
Record enrollment
Leland said total enrollment this fall is expected to reach approximately 6,600 students, including 400 graduate students, compared with 6,268 last fall. Last November, the campus received record numbers of applications for admission, up 14 percent (double the UC system average) versus the prior year, but was forced to limit admissions because of ongoing space constraints.
The campus has proposed a major expansion plan to the UC Board of Regents that would add nearly 1 million assignable square feet over the next five years, doubling the current total. The plan would create 10,800 new construction jobs and generate an estimated $1.9 billion in direct or indirect economic investment in the region.
If the plan is approved as proposed, construction could begin as early as the second half of 2016, with first deliveries of new facilities in 2018. By 2020, the campus hopes to have the capacity to accommodate 10,000 students while retaining one of the lowest student-to-faculty ratios in the UC system.
The university is also adding new facilities in downtown Merced, primarily to house administrative staff and to promote community outreach and engagement.
As a measure of its commitment to sustainable development, UC Merced has earned platinum, gold or silver certifications from the U.S. Green Building Council for every building on campus — an achievement unmatched by any university in the country. The awards, issued under the council's internationally recognized Leadership in Energy and Environmental Design (LEED) program, certify that all campus facilities far exceed state and UC requirements for energy efficiency and environmental impacts.
Building on academic strengths
To sharpen its academic focus, the university recently completed a two-year exercise that identified a core set of thematic areas for strategic emphasis in the coming years. The multidisciplinary themes build on UC Merced's current strengths and represent the most promising paths to contribution and distinction for the newest UC campus. A growing number of research institutes and centers and increased faculty hiring linked to the thematic areas will be integral to the plan.
As was the case throughout the campus's first 10 years, UC Merced's incoming class of freshmen draws heavily from the Central Valley and is expected to be its most diverse ever. The official demographic profile will be available this fall, when the UC system completes its annual "census."
Looking ahead, UC Merced officials are hoping the next 10 years are much more predictable and stable than the first 10, but they're not taking anything for granted.
"We're not about to relax," Leland said. "It's not in our DNA."