July 28, 2016
Alec Rosenberg
,
UC Newsroom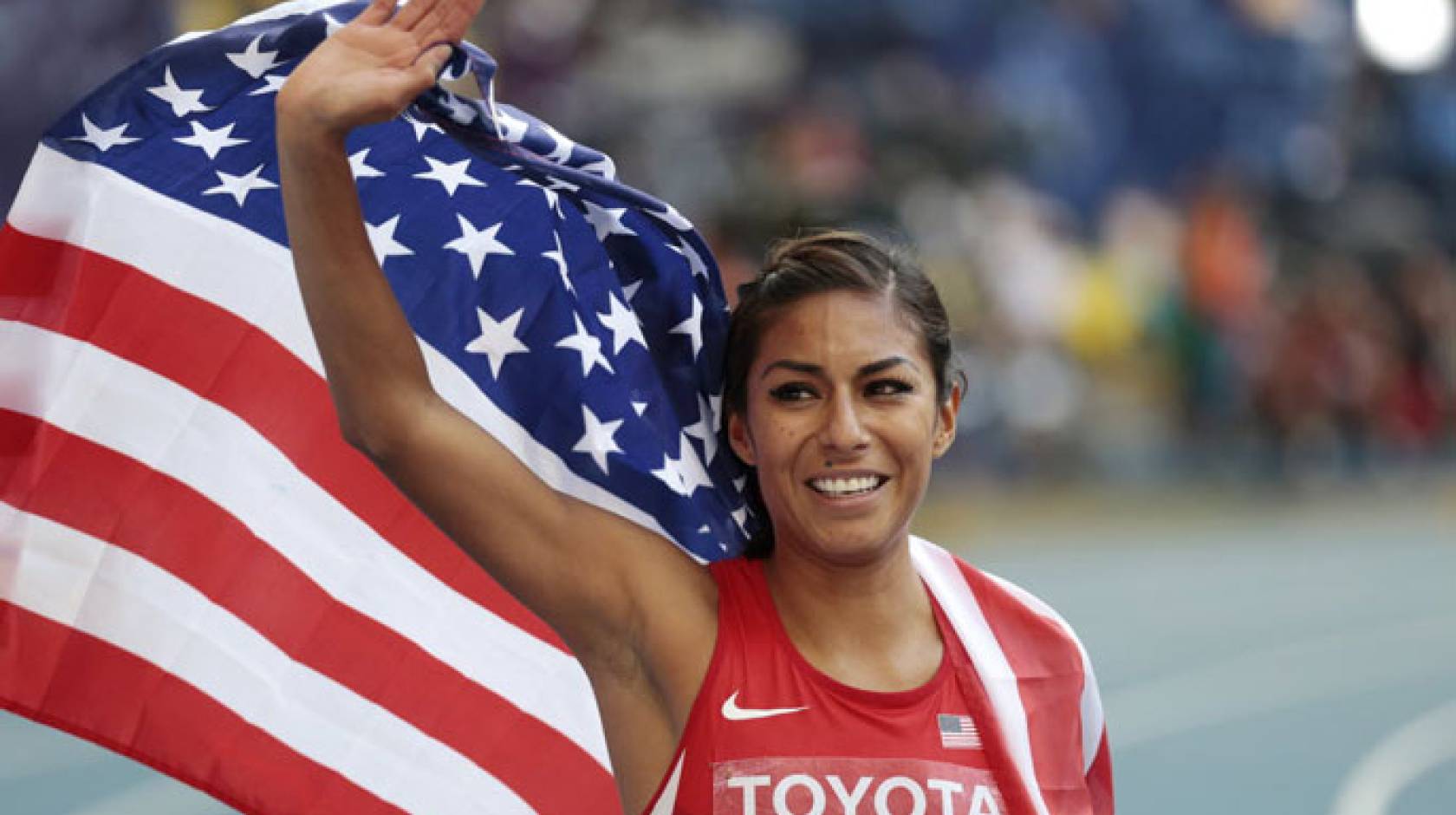 Credit: Courtesy of Brenda Martinez
The road to Rio is paved with blue and gold.
A total of 102 athletes, coaches and staff from eight University of California campuses will take part in the Summer Olympics, beginning next week in Rio de Janeiro, Brazil.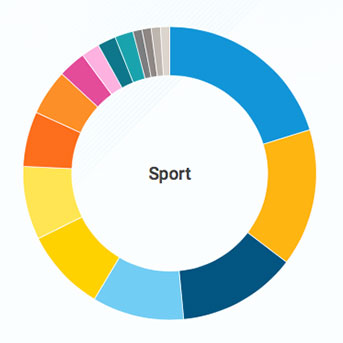 UC is sending so many athletes that they make up 8 percent of the U.S. delegation. In all, UC participants will represent 18 sports and 27 countries.
They range from five incoming freshmen to 41-year-old marathoner Meb Keflezighi of UCLA, who won silver at the 2004 Olympics and is trying to become the oldest-ever marathon medalist.
UC Berkeley swimmer Dana Vollmer, who survived heart surgery as a teen to win gold medals in the 2004 and 2012 Olympics, now hopes to become the first American mom to finish at the top of the podium in a swimming event.
Vollmer's not the only one with a shot at gold. UC athletes earned 27 medals during the 2012 London Summer Olympics, including 17 gold medals – more gold medals than all but four nations.
This year looks equally promising, with athletes in gymnastics, soccer, swimming, track and field, volleyball, and water polo among medal favorites.
From heartbreak to joy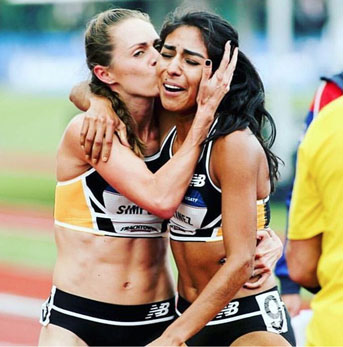 Of course, just qualifying for the Olympics is a major accomplishment. After years of sacrifice, the competitions to qualify for a team spot can be decided by razor-thin margins.
UC Riverside alum Brenda Martinez, who now donates shoes to those in need after her parents couldn't afford new running shoes when she was a kid, qualified for Rio in the 1,500-meter race by 0.03 seconds with a photo finish lunge.
Martinez rebounded after a collision in the 800-meter qualifying final took out her and 2012 Olympian Alysia Montano, a UC Berkeley alum. Another UC Berkeley alum, 2012 Olympic bronze medalist Caitlin Leverenz, missed qualifying for the 2016 U.S. swimming team by 0.05 seconds.
"I just kept telling myself not to give up," Martinez said, according to USA Track & Field. "I got so many emails, Instagram and Facebook messages, it made me feel so much support."
Two of a kind
UC also can claim the majority of the U.S. badminton team – five of the seven athletes – and one of two Carli Lloyds.
Yes, two: The U.S. Olympic delegation includes Carli Lloyd, the women's soccer player who led the Americans to a World Cup victory last year, and Carli Lloyd, the women's volleyball player who was a four-year starter at UC Berkeley.
"People always talk about her when they hear my name, so I feel like she's in my daily life," Lloyd the volleyball player said in 2015, according to TeamUSA.org. "You spell it the same, and it's like yeah, but I don't know her at all. I've watched her success and she is such a baller. I'm awful at soccer. I don't really even understand the sport that well. But I watch her fire and it's cool."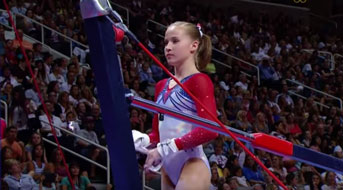 Medal contenders
The defending gold medalist U.S. women's soccer team, coached by former UCLA coach Jill Ellis, features two players with UC ties – UC Berkeley alum Alex Morgan and incoming UCLA freshman Mallory Pugh – along with alternate Samantha Mewis, a UCLA alum.
Meanwhile, the top-ranked U.S. women's volleyball team, silver medalists in the 2012 Olympics, includes UCLA alum Karsta Lowe and is coached by UCLA legend Karch Kiraly, along with assistant Tom Black, a UC San Diego alum and former Triton coach.
In gymnastics, the U.S. women's team looks to repeat as gold medalists with a squad that includes incoming UCLA freshman Madison Kocian, an expert in the uneven bars. UC Berkeley student Toni-Ann Williams will be the first gymnast to represent Jamaica at the Olympics, joined by her Cal and Jamaica head coach, Justin Howell.
In the pool, expect Cal swimmers to make a splash. UC Berkeley alums and three-time Olympians Nathan Adrian and Anthony Ervin will co-captain the U.S. men's team along with Michael Phelps. Other men's swimming medal hopefuls include Ryan Murphy and Jacob Pebley in the backstroke, Josh Prenot in the breaststroke, and Tom Shields in the butterfly.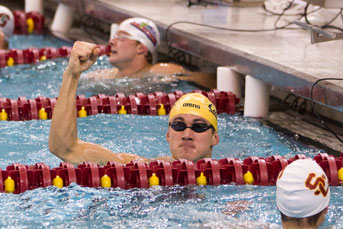 On the women's side, incoming UC Berkeley freshman Abbey Weitzeil won the 50- and 100-meter freestyle finals at the U.S. Olympic Trials. Along with Vollmer, her teammates include Cal swimmers Kathleen Baker, who has overcome Crohn's disease, and Missy Franklin, who won five medals at the 2012 Olympics.
The U.S. women's water polo team, trying to defend its 2012 gold medal, features five players from UCLA: incoming freshman Maddie Musselman, student Rachel Fattal and alums KK Clark, Sami Hill and Courtney Mathewson. They are joined by head coach Adam Krikorian of UCLA and assistants Chris Oeding, a UC Berkeley alum, and UC Irvine alum and coach Dan Klatt. The U.S. men's water polo team includes two players from Cal (Luca Cupido and John Mann) and two from UCLA (Alex Roelse and Josh Samuels).
Putting a ring on it
There is even an engaged couple of U.S. Olympic rowers – UC Berkeley alum Nareg Guregian, who will compete for the men's pair, and Katelin Snyder, coxswain of the gold medal favorite U.S. women's eight boat.
"There have definitely been times, mostly for me, where we'll be talking and I can't focus on what she's saying for about five seconds because all I can think is, 'We're going to Rio,'" Guregian said, according to TeamUSA.org. "I have to stop her and say, 'We're going to Rio.' I'm probably annoying her, but I don't care."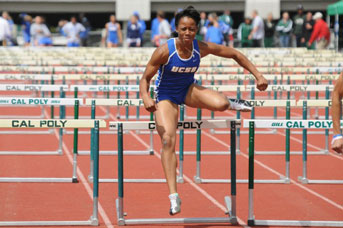 Back on track
In track and field, top U.S. qualifiers included UC Santa Barbara's Barbara Nwaba (heptathlon). Charles Jock will compete in the 800-meter race, becoming the first UC Irvine track and field alum to earn an Olympics' berth since Steve Scott in 1988. UC Davis alum Kim Conley returns for her second Olympics in the 5,000-meter race.
"I consider my UC Davis experience as an incubator for much of the success that I have enjoyed thus far in my professional running career," Conley, 30, told Dateline UC Davis. "I grew as a person and athlete during my five years at UC Davis."
After his pro football career was cut short by concussions, Jahvid Best of UC Berkeley is returning to track, running the 100-meter race for St. Lucia. Best will join the New England Patriots' defensive back Nate Ebner, who made the U.S. men's rugby sevens squad, as the first athletes with previous NFL experience to compete in the Summer Olympics.
Rugby is returning to the Olympics for the first time since 1924, when team captain Colby E. "Babe" Slater, a UC Davis alum, led the American team to victory. This time, the fast-paced seven-a-side version will include UC representatives on the U.S. men's team (UC Berkeley's Danny Barrett) and U.S. women's team (UCLA's Kelly Griffin).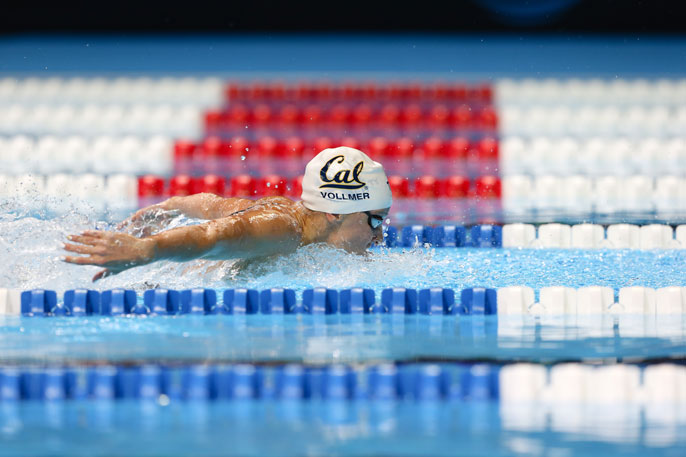 Spanning the globe
In true Olympic spirit, the UC delegation spans the globe, representing 27 countries: Australia, Bermuda, Brazil, Canada, Colombia, Egypt, France, Ghana, Greece, Hong Kong, Hungary, Ireland, Italy, Jamaica, Mexico, Netherlands, New Zealand, Peru, Poland, St. Lucia, Serbia, Singapore, Slovenia, South Africa, South Korea, Spain and the United States.
NBC's Olympic broadcast team will include several UCLA Bruins: Ato Boldon, track and field; Kay Cockerill, golf; Tim Daggett, gymnastics; Ann Meyers Drysdale, basketball; Samantha Peszek, gymnastics; and Kevin Wong, beach volleyball. Also, UC San Diego alum Julie Swail Ertel, who won a silver medal in women's water polo with Team USA at the 2000 Summer Olympics and was a member of the U.S. Triathlon team at the 2008 Games, will be an analyst in both sports in Rio for NBC.
In addition, UC has at least one Paralympian: UC San Diego student Reilly Boyt, a swimmer, made the U.S. team. The Paralympic Games will run Sept. 7-18, also in Rio.
The following is a list of UC Olympians who will be in Rio for the Summer Olympics. In all, the UC-affiliated delegation includes 82 athletes plus 20 coaches and staff.
2016 UC Olympians