December 22, 2020
Laura Kurtzman
,
UCSF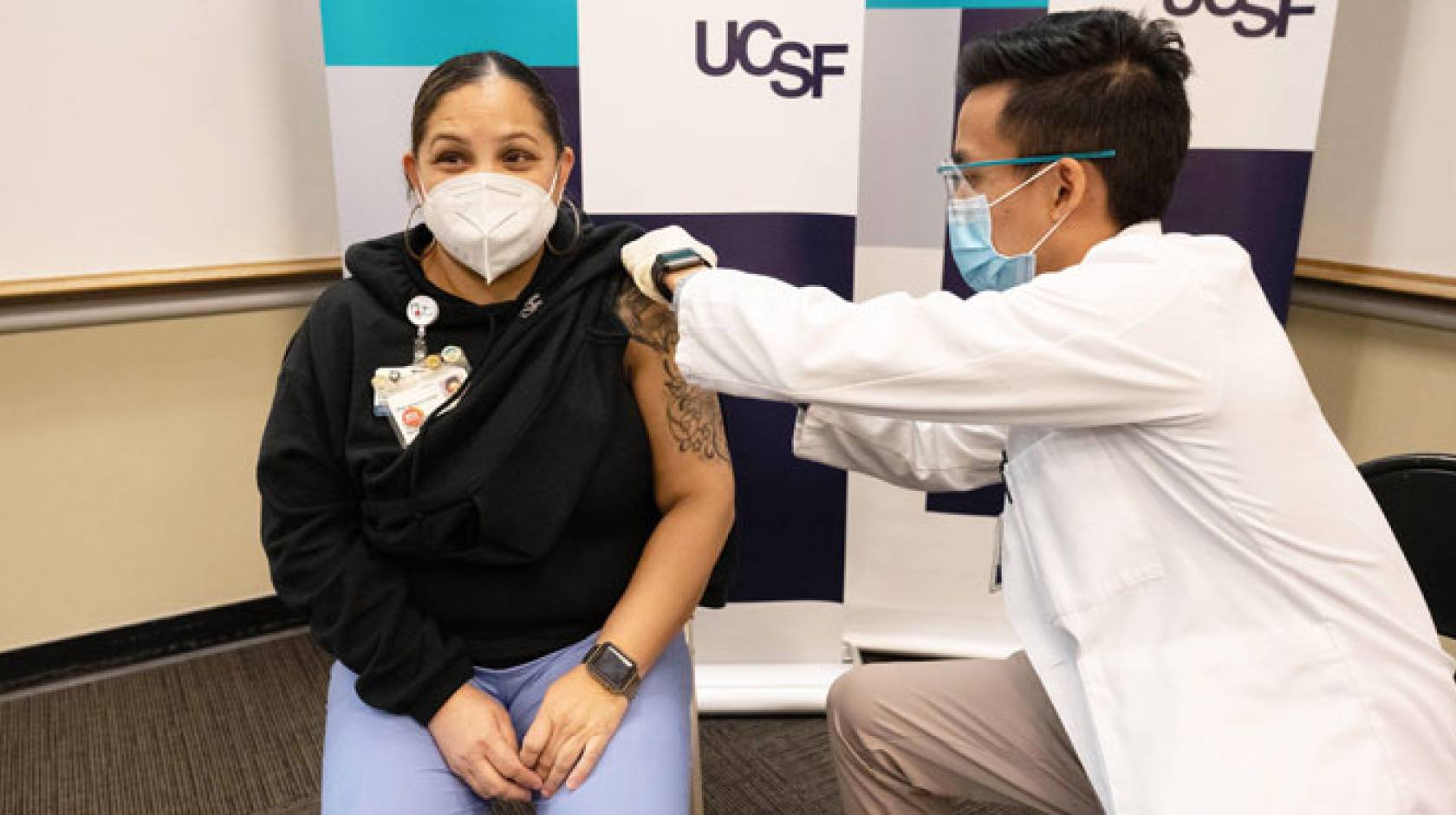 UC medical centers are among the first to receive the vaccine. Check out stories from UC Irvine Health, UCLA Health and UC Davis Health to see more happy faces and learn more about the vaccine.
On a history-making day in the ongoing battle against the surging coronavirus pandemic, UC San Francisco began its first phase of vaccinations for its critical health care workforce, including both clinical and non-clinical employees whose work places them at highest risk of infection by COVID-19.
UCSF is among the first hospitals in California to receive the Pfizer vaccine to immunize its front-line employees working on site. With a limited initial supply of 975 doses delivered Wednesday and several thousand more on the way, the initial phases of vaccinations are being reserved for UCSF and UCSF Benioff Children's Hospital Oakland employees who may be exposed to COVID-19 patients in emergency departments, acute care clinics, and some outpatient and inpatient units and clinics.
Support, facilities and environmental services staff in those areas, as well as select students who have patient interactions; residents and clinical fellows; and researchers studying COVID-19 also will be among the first members of the UCSF community to get vaccinations.
For some UCSF frontline workers treating or serving patients with COVID-19 since February, the mid-December delivery of vaccines was met with hope, relief and tears of happiness.
One of the first vaccine recipients was Jennifer Reid, M.D., MS, a surgeon and trauma and critical care fellow at UCSF and Zuckerberg San Francisco General Hospital, who moved from Baltimore in August. This has been a difficult year for Reid: her father passed away a few months ago (not from COVID-19), and she is providing care at her home for her mother, who is receiving chemotherapy for cancer.
"When I found out I was getting the vaccine, I got very emotional," Reid said, "because I'm always worried about bringing COVID home. It has been a terrible year as a provider, but it has only made me more resilient, and has made me a better caregiver for my patients."
The first at UCSF to receive the vaccine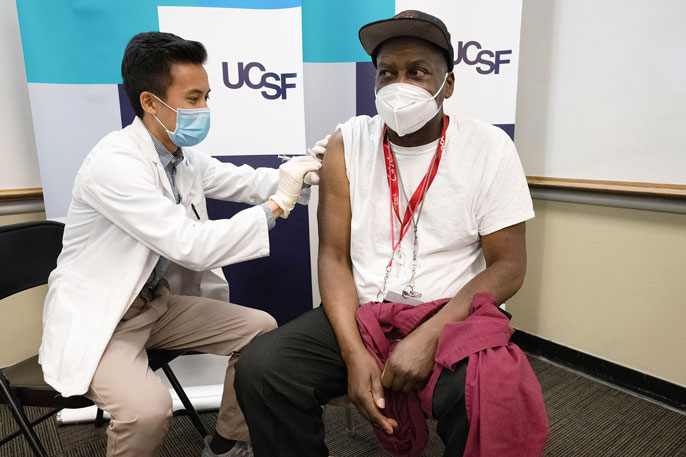 During later phases of UCSF's vaccination program, vaccines will be offered to more UCSF health care workers, first responders such as UCSF Police officers, learners and researchers, based on their level of risk. UCSF is following the guidelines established by the National Academies of Sciences, Engineering and Medicine (NASEM) and the California Department of Public Health for prioritizing vaccinations to those most at risk of exposure to the virus.
Clinical trials have shown both the Pfizer and Moderna vaccines to be safe and effective, and members of the UCSF community are strongly encouraged to get vaccinated when they become eligible.
As more doses are made available, high-risk UCSF patients, such as adults age 65 and older and those with chronic medical conditions such as asthma and heart disease, will be eligible for vaccination. Eventually, as the supply of vaccines becomes widely available, all members of the UCSF community will be offered the vaccines.
Arrival of the historic vaccine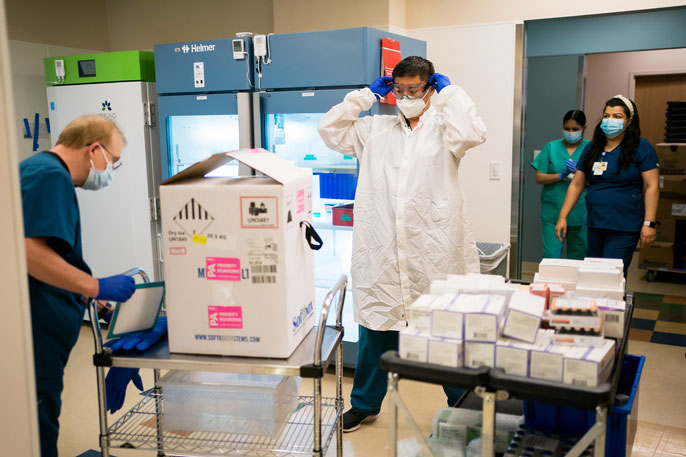 Between Pfizer's vaccine and a similar one from Moderna that is expected to receive Emergency Use Authorization from the Food and Drug Administration soon, 40 million doses should be available for adults across the country by the end of the year.Both vaccines require two doses taken either 21 or 28 days apart. Pfizer has encouraged health systems to provide all of the initial vaccines as the first dose and will send the second doses at the appropriate time. Millions more doses will be available in January and thereafter.
In addition to the Pfizer and Moderna vaccines, several other vaccines are currently in clinical trials that are scheduled for completion in early 2021. Other vaccine trials have begun for children under 12 years old.