April 26, 2016
Lisa Cisneros
,
UC San Francisco
UC San Francisco leaders are lauding the gift by Joan and Sanford I. Weill as transformational, giving the University an unprecedented opportunity to unite and expand its neurosciences community during a revolutionary period in brain discovery.
"With modern technologies – big data, computers, imaging, cellular and molecular science, and engineering – we, for the first time ever, have an opportunity to understand [brain] diseases in a very clear way and to make substantial progress to prevent, to treat and even to repair damage for many of these disorders," says Stephen Hauser, M.D., a neurologist and physician-scientist who will lead the new UCSF Weill Institute for Neurosciences. "The opportunities for UCSF to continue to lead in neuroscience, and even more importantly, to pave the way for a major change in the trajectory of our understanding, is here for us today."
The $185 million gift to UCSF – the single largest in University history – will build upon UCSF's leadership in the neurosciences and benefit all aspects of UCSF's neuroscience programs, from graduate education to basic, clinical and translational research and patient care.
The gift will enable UCSF to meet a growing demand for research and clinical space with the construction of a 270,000 square-foot, six-story building at Mission Bay to serve as headquarters for the UCSF Weill Institute for Neurosciences.
Combined with the Sandler Neurosciences Center, the Arthur and Toni Rembe Rock Hall and the proposed psychiatry clinic building to open at 2130 Third Street, the new building will make UCSF Mission Bay one of the world's largest enterprises focusing on the brain.
"It's been an incredible and exciting journey working with Joan and Sandy Weill in conceiving this new institute," said UCSF Chancellor Sam Hawgood, MBBS. "They pushed us. They made us think bigger, bolder, out of the box. They saw that we had all of the parts and they pushed us to think how to make the whole greater than the sum of the parts."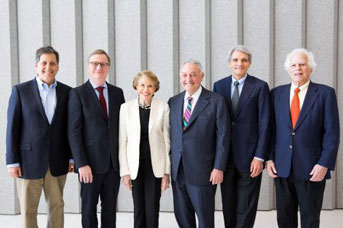 The Weills say their overarching goal with this gift is to help improve people's lives.
"UCSF has emerged as one of the leading biomedical research universities in the world in recent decades," said Sandy Weill, chairman of the executive council for UCSF Health. "We were inspired to make this gift because we recognized the potential of UCSF physicians and scientists to significantly advance our understanding of brain diseases and lay the groundwork for new therapies. So much remains to be done in this area and we are thrilled to see what can be accomplished in the future."
Among the highlights, the Weill gift will help UCSF:
Strengthen its culture of collaboration by bringing the neurosciences community together;
Attract top scientists, bolstering recruitment and retention efforts in these fields;
Advance fields of the biological and genetic components of psychiatric disorders and translate that research into new therapies and treatments;
Enable scientists to form partnerships with clinicians, building a pipeline for clinical trials recruitment;
Support a scholars program that will give neuroscience graduate students and young investigators the financial freedom to pursue high-risk, high-reward research;
Generate new research and clinical revenues and additional philanthropic support; and
Convene and collaborate with scholars from around the world in an annual neuroscience symposium that will alternate between Weill Cornell and UCSF.
Facilitating multidisciplinary team science
Despite significant advances in neuroscience – from neuroimaging techniques that make it possible to see inside a living human brain to noninvasive electrical brain stimulation, and progress in understanding the biologic and genetics of psychiatric disorders – little if any of these efforts have resulted in improvements in care for patients, says Matthew State, MD, PhD, now in his third year as chair of the Department of Psychiatry.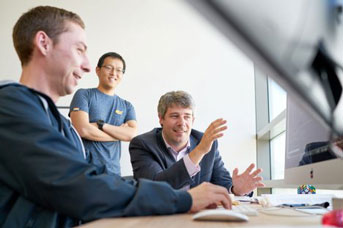 "The real challenge for the field now is to turn those findings into a real understanding of what's going wrong in the brain," he says. "In order to do that, you need a very strong neuroscience community. And there is really no better neuroscience community than here at UCSF. Both in terms of its breadth and depth, but also there is a really strikingly collaborative spirit here that defines this place."
"We're increasing the interaction of psychiatry, neurology, neurosurgery and basic neuroscience in every way we can," State adds. "The building sets the foundation for the next step, which is physically being able to bring these folks together to house our clinical and clinical research operations, either in immediate or very close proximity to this basic science effort. So it is an incredibly important step in allowing us to realize our vision."
With the co-location of a new psychiatry clinic building, funding from the Weills also will foster a stronger focus on the translation of discoveries as quickly as possible into therapies for patients.
"Neurologic and psychiatric diseases are responsible for an enormous burden on global health, and as our population ages, these diseases are increasing in frequency," says Hauser, who is also chair of the department of neurology. "The Weill Institute for Neurosciences is going to lead the world in making advances against a whole host of terrible neurological and psychiatric disorders, like Alzheimer's and other neurodegenerative diseases, addiction, depression, autism, epilepsy, stroke, and multiple sclerosis."
Planning for a new neurosciences building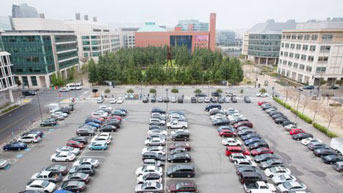 Planning for the new neuroscience building – to be located at the current site of a surface parking lot on 4th Street, known as Block 23A – is being led by a team comprising Dan Lowenstein, M.D., executive vice chancellor and provost, Talmadge King, M.D., dean of the School of Medicine, as well as faculty leaders Hauser, State, and Stanley Prusiner, M.D., director of UCSF's Institute for Neurodegenerative Diseases and a 1997 Nobel laureate.
A larger program planning committee, with representatives from the Academic Senate, Capital Programs, Campus Planning and other stakeholders, will ensure that the building fosters interdisciplinary team-based science.
"This building will be a magnet to attract new faculty and graduate students who will work at the interface of disorders of the brain and the mind, and their research will propel us into a new era that breaks down the artificial barriers that have separated the disciplines of neurology and psychiatry for more than a century now," says Lowenstein, a neurologist himself.
Plans for the building include bench laboratory research programs in psychiatry and neuroscience, as well as desktop research, clinics to treat sleep disorders and chronic pain, and a multidisciplinary center to treat neurodegenerative diseases.
At the Regents meeting on March 24, UCSF received approval to spend $21 million for preliminary planning that will refine and confirm the project scope, complete programming and initial design, and develop a budget for the project based on a refined scope.
The campus intends to submit the project for full budget, financing and design/CEQA approval in March 2017. Following these approvals, it is estimated that construction would commence in fall 2017 with completion targeted for sometime between late Fall 2019 and mid-2020.