With Thanksgiving going virtual this year more than ever before, why not make it as photogenic as possible?
Try purple sweet potatoes instead of your typical sweet potato to make your pies and tarts pop on video chat and Instagram.
In addition to being bright and cool-looking, purple sweet potatoes are good for you — chock full of healthy antioxidants — and have a savory, nutty flavor.
"They're good with things like butter and salt and pepper," says UC Cooperative Extension farm adviser Scott Stoddard, the state's resident purple sweet potato expert. Stoddard is working to make purple sweet potatoes, especially the ones that really pop — purple-fleshed, purple-skinned "purple/purples" — even more readily available to consumers.
If you don't believe us, why not go down to your grocery store and pick up a purple sweet potato yourself? Earn even more clout among your friends by incorporating them into this Alice Waters recipe: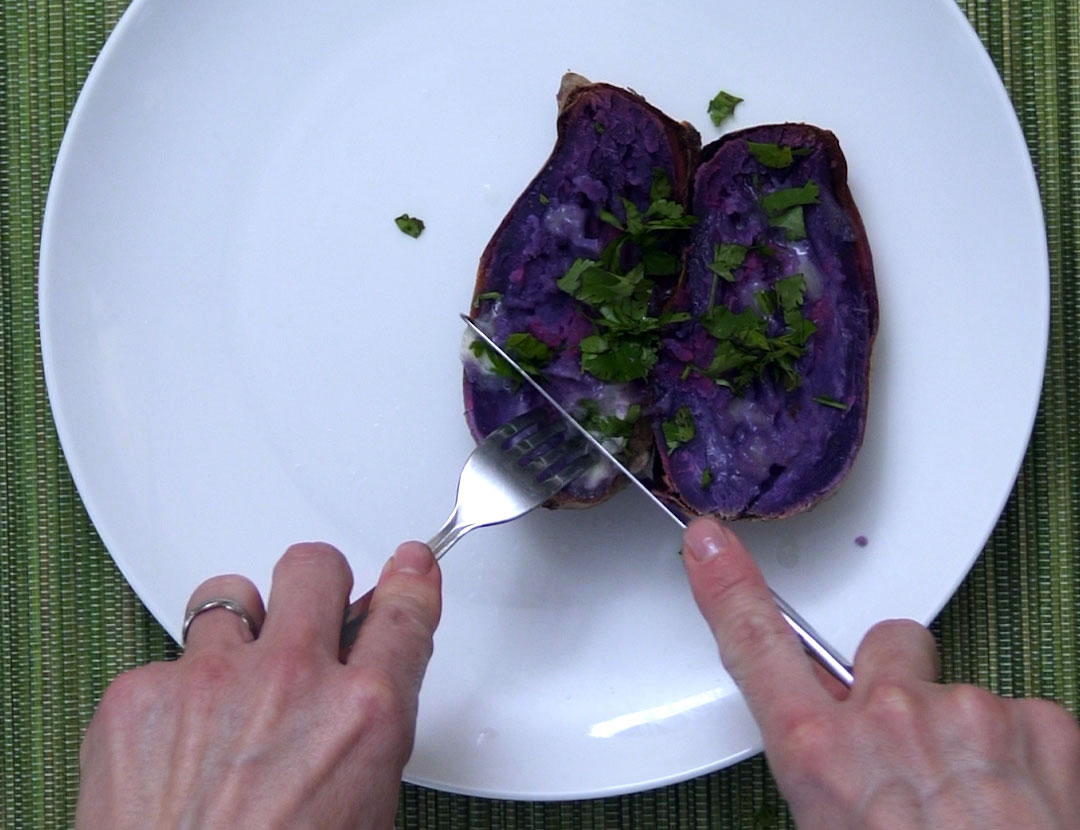 Sweet potatoes with lime
Choose firm, fresh sweet potatoes.
Wash and scrub them well.
Bake in a 375 degree oven until tender, about 1 hour.
When they are done, split the potatoes open, dot with butter, sprinkle with salt, and squeeze lime juice over them.
Scatter a handful of coarsely chopped cilantro over them, if you like.
Note: Waters describes the beige-on-the-outside, purple-on-the-inside Okinawan as "especially good" with this preparation. Other options are the purple/purple Stokes or the purple-on-the-outside, white-on-the-inside Murasaki. (The purple Ube looks like a sweet potato but is actually a yam!)
Whichever you choose, embrace the color in your food and have fun with it. We hope it will help you lean into the novelty of Thanksgiving this year.
Learn more about purple sweet potatoes here: Why purple sweet potatoes belong on your holiday table.
Recipe courtesy Alice Waters, "The Art of Simple Food."
Want to try our purple sweet potato pie? Check out that recipe here.