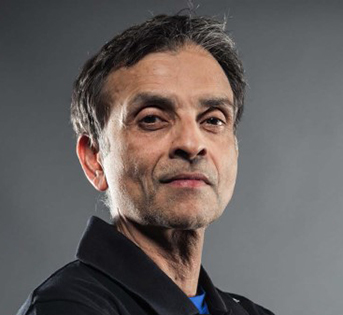 Silicon Valley entrepreneur Vivek Ranadivé, a pioneer in the realm of big data and real-time technology, will lead a fund and build a team to invest in innovation opportunities emerging from the University of California, UC officials announced today (Dec. 15). UC's Office of the Chief Investment Officer (UC Investments) will be an anchor investor with a $250 million commitment.
"Our business plan for the UC innovation fund is designed for the next 100 years," said Paul Wachter, chair of the UC Board of Regents Committee on Investments. "Therefore, it's important that we get this right with a great team and an independent structure, which is what we have accomplished by recruiting Vivek to lead the fund."
"Vivek is a visionary who has transformed the way businesses operate across the world and developed his own innovations in Silicon Valley," UC Chief Investment Officer Jagdeep Singh Bachher said. "Our shared vision for investing in UC innovation, our alignment of values and our investment beliefs solidified the relationship."
In September 2014, the UC Board of Regents approved the concept of investing in innovation emerging from the University of California system across disciplines such as life sciences, technology, energy, agriculture and materials – using no tuition or state funding. After evaluating options and surveying the investment landscape, Bachher focused on backing a fund created by a stellar entrepreneur with objectives and goals similar to what originally was called "UC Ventures."
"This venture will support the research and entrepreneurship of UC faculty and student researchers whose discoveries can benefit people throughout California, the nation and the world," UC President Janet Napolitano said. "Vivek is a leader who can make that happen. His involvement will enable us to achieve our objective of capitalizing on UC innovation."
Ranadivé's entrepreneurial beginnings trace back to the first company he founded, Teknekron Software Solutions, which provided the engine to digitize trading on Wall Street. The next business he founded, TIBCO, created the technology that powers communications between entities, manufacturers, governments and organizations across the globe.
He is also the owner and chairman of the Sacramento Kings, a National Basketball Association (NBA) team. Author of three New York Times best-sellers, Ranadivé writes on his view of "civilization 3.0" – a values-driven world grounded in research and technology.
"It is a tremendous honor to partner with the University of California in this unique collaboration focused on investing in breakthrough technologies emerging from the world-class University of California system," said Ranadivé. "As an entrepreneur, I look forward to supporting fellow entrepreneurs and growing innovative, value-driven enterprises with a mission to advance our society and make the world a better place."
The University of California is a rich environment for innovation. For each year of the past few decades, UC has been granted more patents than any other university in the world. Researchers produce on average five inventions a day. There are at least 30 incubators and accelerators throughout the UC system. More than 800 start-up companies with UC patents have been founded since 1980.
The system spans the state of California, with its 10 campuses, five medical centers, three affiliated national laboratories, 246,000 students, more than 200,000 faculty and staff, and 1.7 million living alumni.