June 17, 2015
Bettye Miller
,
UC Riverside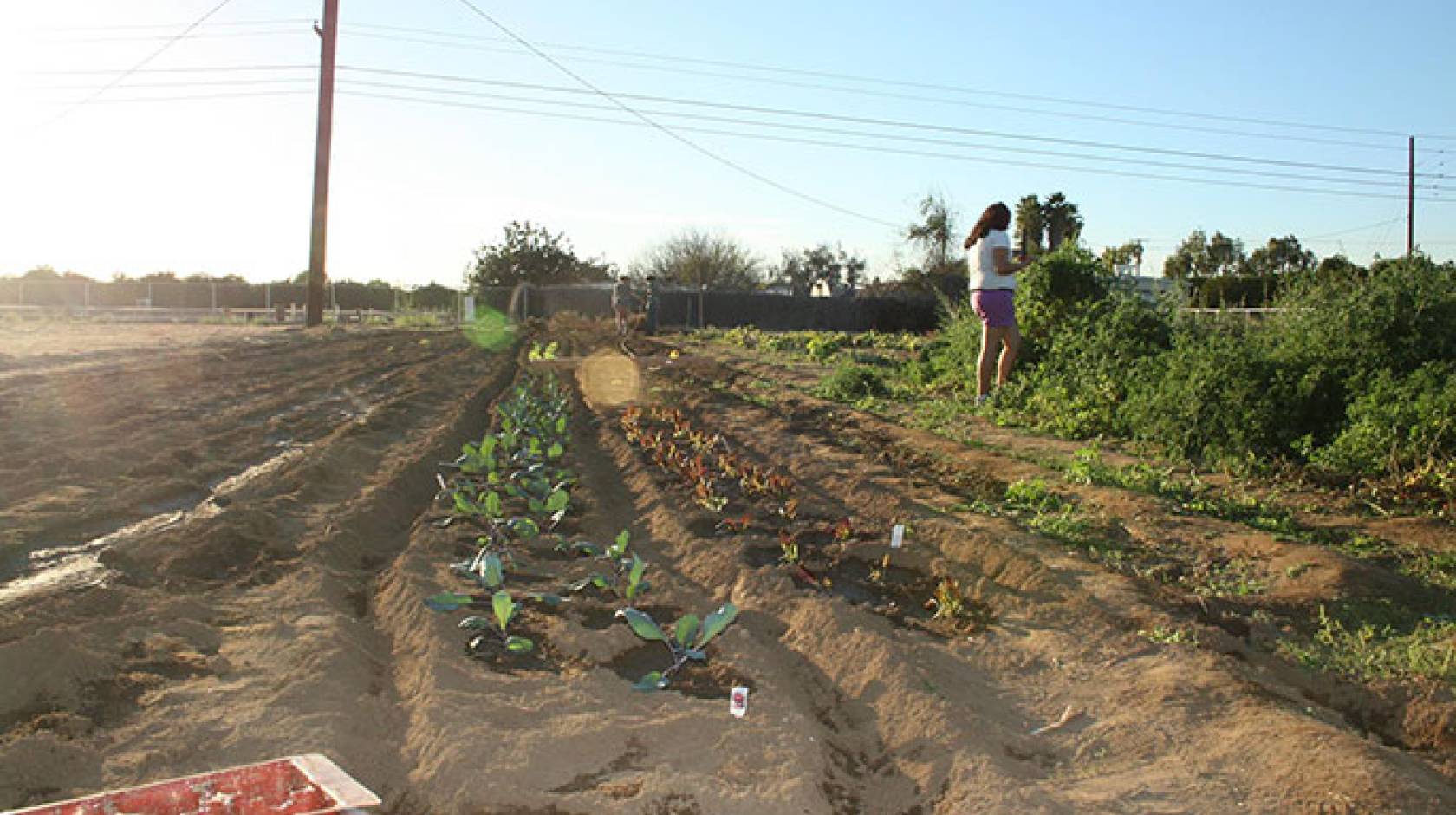 Credit: UC Riverside Community Garden
A bachelor of science degree in sustainability studies that emphasizes social and environmental justice issues will launch at UC Riverside in fall 2015.
Offered through the Department of Gender and Sexuality Studies, the interdisciplinary B.S. degree will focus on challenges to sustainability such as climate change, air and water pollution, toxic contamination, energy demands, economic growth, agricultural production, and environmental degradation. It is believed to be the first program of its kind to be offered by a gender and sexuality studies department in the United States.
"In a time of growing concern over natural resources, the new major in sustainability studies will give UCR undergraduates the opportunity to develop solutions to challenges to our region and to the world as they complete their undergraduate education," said Peter Graham, associate dean of the College of Humanities, Arts and Social Sciences.
Emphasizing social and environmental justice issues recognizes that the poor and other vulnerable populations "are first and hardest hit by unsustainable practices of extraction, industrialization, finance, corporate agriculture, air and water pollution, environmental degradation, and the forms of exploitation and denial of rights that accompany these," explained Marguerite Waller, professor and chair of the Department of Gender and Sexuality Studies.
Researchers who do global environmental work have reported on the feminization of poverty, added Jade Sasser, assistant professor of gender and sexuality studies, noting that 70 percent of the world's poor are women.
"There is a relationship between environmental, economic and social justice factors and who is most likely to suffer," she said. Sasser was recruited last year to help launch the B.S. degree because of her research in environmental science, policy and management, Waller said.
The new degree, which was approved by the Riverside Division of the Academic Senate in May, is an outgrowth of the department's current curriculum and reflects student interest in an interdisciplinary approach to sustainability issues. It also aligns with UC President Janet Napolitano's sustainability initiative that calls for all UC campuses to be carbon-neutral by 2025 and for curricula that encourage sustainable practices and infrastructure.
"The new undergraduate degree in sustainability will be pivotal in promoting sustainability literacy at UCR," said John Cook, director of sustainability. "The campus is embarking on a provocative and exciting quest to have all UCR undergraduates complete a sustainability literacy certification by the time they graduate. Having a degree program and tenure-track faculty focused on sustainability, especially with an expertise on social and environmental justice, will provide a wonderful resource in support of campuswide sustainability efforts."
Students enrolled in the new B.S. program will take more science courses than typical humanities, arts and social sciences majors, as well as a quantitative course and a capstone seminar in interdisciplinary methodology. Courses in gender and sustainability, natural and earth sciences, engineering, health and medicine, cultural studies, policy, media, and social sciences will prepare students to respond to challenges to local, regional and global sustainability.
Through internships, students will partner with community groups on sustainability research projects as well. A yearlong series of speakers and films will launch in October and will be open to the campus community and the public.
Policymakers who overemphasize reproduction and population growth in seeking solutions to environmental issues overlook opportunities for engaging women as leaders in addressing climate change and other sustainability challenges, Sasser said, adding that policies which focus on contraception as a solution to unsustainable population growth "continue to blame women and let militaries and corporations off the hook."
Juliann Allison, associate professor of gender and sexuality studies and public policy, said gender disparities in environmental issues became apparent in research she conducted on the impacts of acid rain along the U.S.-Mexico border more than a decade ago.
"Women have a different experience of living on the border, of pollution and of raising their families," she explained. Around the world, it is typically women who scavenge for wood and other energy sources, and who grow food to feed their families (women grow 70 percent of the world's food), so environmental issues that affect crops, health and natural resources particularly impact women.
Many of the world's environmental movements are organized by women, noted Chikako Takeshita, associate professor of gender and sexuality studies and the program's architect.
"Examples are bountiful, from Kenyan women who grow seedlings for the Green Belt reforestation project to Mexican women in coastline villages who remove plastic waste from the beaches and recycle them, and from American mothers who use cloth diapers instead of disposable ones to maquiladora workers on the U.S.-Mexico border who fight multinational corporations that dump toxic waste in their neighborhood," Takeshita said. "Some women engage in these activities as a source of income and others to protect the health of their family. Either way, gender roles in their societies often put women on the path to become the key drivers of sustainability."